Interior designer and 2016 Emerging Creative Seugnet Herbst hopes to add value to the South African creative scene through her art. She was chosen for Design Indaba's annual programme because her unique take on the design of the pouf. Her origami-inspired design held a childlike playfulness while challenging its traditional form.
"The design of the pouf was inspired by an origami pattern," explains Herbst "The pouf reminds many of the game they use to play at school folding paper to create several sides with colours, numbers and messages – which in return remind us of the child inside each one of us, adding to the playful element of the pouf design."
Now a full-time interior design employee, Herbst described the Emerging Creatives programme as a "tremendously valuable experience".
"One of the many highlights were meeting fellow creatives from different respective creative fields and sharing this journey with them," she says. "The exhibition not only provided me with a platform to interact with potential clients and obtain valuable feedback from them, but for me to also experience them – first-hand – interacting with the product."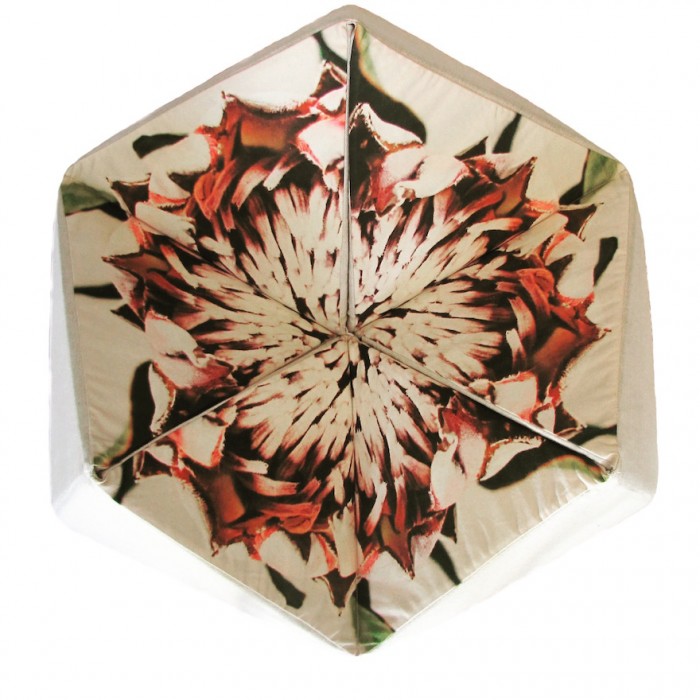 Herbst's home-grown creations are locally sourced and manufactured in her own home. She also collaborates with local manufacturers to create products that fulfil a need and challenge the ordinary.
"The ability to shape and manipulate a space to create an experience is what drew me to the interior design discipline," she explains. "An interior designer is an excellent tool to guide and advise on space and design elements, but what ultimately makes the space exciting and comfortable is finding the perfect balance between the design direction from the designer and the personal input from the client and successfully integrating this into the space."
Established in 2005, the Emerging Creatives programme is a developmental programme for young South African creatives. Find out more about some of our Emerging Creatives alumni and what they have been up to since launching their careers.
Entries for the 2017 Emerging Creatives programme are now open. Find out more here.