Growing up in the seaside town of Poole on the south coast of England made recent industrial design and technology graduate Phillipa Bridges really curious about sustainability.
The Loughborough University graduate says she has always been interested in the principles of circular design and ways to make Fast Moving Consumer Good (FMCG) products more sustainable.
So when it came time to think of a product she would like to enter into the longest running student design competition, the RSA Student Design Awards, she chose to look at how to make mascara more sustainable. This is how she came up with her product, Infinity Mascara.
"While personally, I have always been interested in helping others and the environment, I also believe that as designers, we have a responsibility to consider the impact of the products we design, so this brief ticked many boxes," she says.
Infinity Mascara is a refillable mascara designed to be reused, for longer. How it works is that mascara is applied to the lashes with a 3D-printed fingertip that fits the individual's finger. The refillable mascara that can be applied using a 3D printed fingertip, saving an estimated 25 mascara bottles from landfill per person over ten years.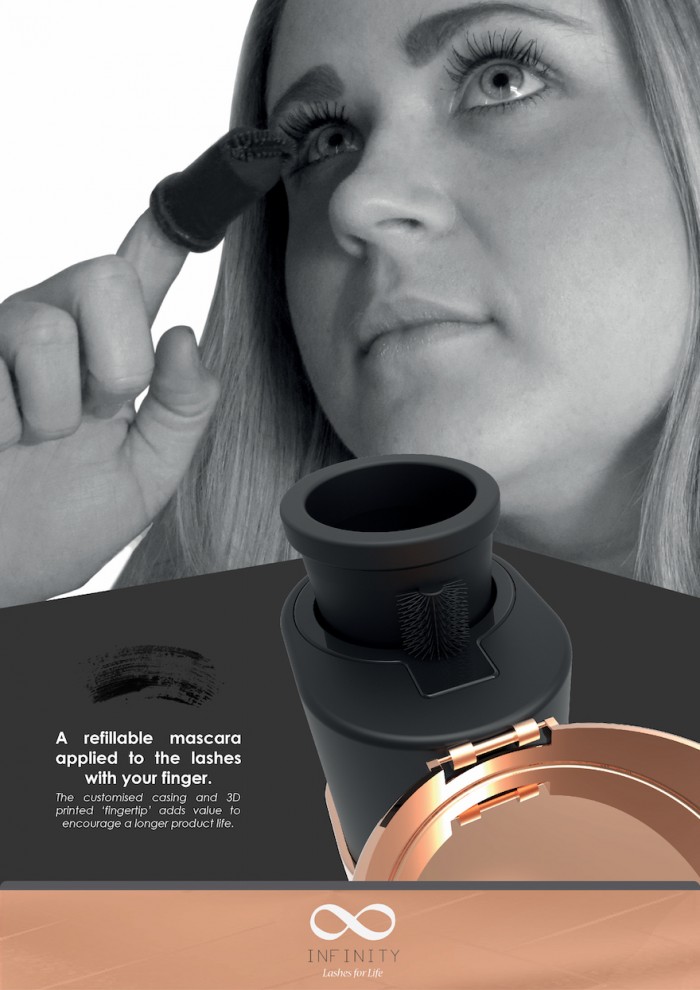 She says she particularly wanted to address the misconception that beauty products are disposable, non-recyclable items, "I wanted to prove that aesthetic, everyday products can consider the environment as well. I chose to redesign mascara because the beauty industry is not usually associated with sustainability."
According to Sustainable Brands (2011), personal care and beauty products account for 1/3 of UK landfill waste.
"Mascara is an untapped, unsustainable FMCG that needs revision. My research showed females between the ages of 20-30 usually throw their empty or out of date mascaras into the bin, as there are no visible recycling symbols on the current packaging. Plus users aren't bothered about recycling, as it is an inconvenience to walk to the recycling bin," she adds.
She hopes her product is the link between these two worlds.
Bridges, who previously studied sustainable design in a university optional module, says that the brief for the student competition inspired her to write her final year dissertation on the sustainability of low-cost FMCG and stores.
She says that she would love to make a difference through the power of product design and sustainable behaviour change. "I hope that one day the world will be fully sustainable."
But for now, Bridges plans to find a job in sustainable design while she tries to develop the patent-pending Infinity concept under the backing and support of a company.
More on sustainability:
Studio Swine on making sustainable design desirable
Vera de Pont on sustainble DIY fashion
Ying Gao's designs use fingerprint recognition to identify strangers