In eighth grade I was adamant to start playing the flute, but, as a small child, my fingers struggled to reach all the notes. Thankfully, I was not the first child who experienced this and there was already a flute with a bent head piece that made the instrument shorter and the keys easier to reach.
The new challenge was that I needed to breathe more powerfully if I wanted to get a clean sound. I struggled at this too and eventually gave up and went back to the longer instrument hoping that a growth spurt would follow my decision.
Today, rather than give up, I might have looked at the possibility of 3D printed instruments. 3D printing allows the designer to create the instrument on a computer and then print out the parts in various materials. This means that instruments can be customised to the musicians' needs and wants.
Playing on the name of the famous Stradivarius violins, 3DVarious is a French violin manufacturing company which focuses on designing electric violins with 3D printing. The end result is a violin tailor-made for the musician in both structure and aesthetic taste.

3D Printed Electric Violins by 3DVarious
Although 3DVarious violins are as expensive as they are beautiful, 3D printing musical instruments can actually make playing instruments more accessible globally.
The production of an instrument through printing can increase efficiency over a traditionally handmade craft, and with cheaper materials the final instrument can be quite cost effective.
The digital design also encourages sharing of 3D printed instruments. Hovalin violins are 3D printed with the open source designs available online under the Creative Commons license. Anyone can reproduce these violins personally, or commercially as long as 10 per cent commission, per violin sold, is returned to the original designer.
But there is always some discord when the technological and the artistic worlds overlap. More traditional musicians and instrument designers argue that the sound of a 3D printed instrument is not as rich, while others suggest that the technology allows for more accurate designs, and therefore, better quality instruments. Frank DeFalco, manager of Canada Makes, a 3D printing organisation, spoke to Design Engineering about the misconception surrounding 3D printed instruments. He explains that "It's not worse or better, it's just different."
This year, Canada Makes, along with the Ottawa Symphony Orchestra, Charline Dequincey (a Canadian violin maker), and Winnipeg's Industrial Technology Centre, organised the National 3D Printed Musical Instrument Challenge which asked participants to design a 3D printed instrument which reduces performance-related injuries.
Robert Hunter, an engineering PhD student at the University of Ottawa, was recently announced as the winner of the competition. He designed a clarinet and wrist brace which work together to help the musician carry the weight of the instrument for extended periods of time. He was inspired by his own experience with playing the clarinet in high school where the tendon in his thumb would get very sore after hours of practising.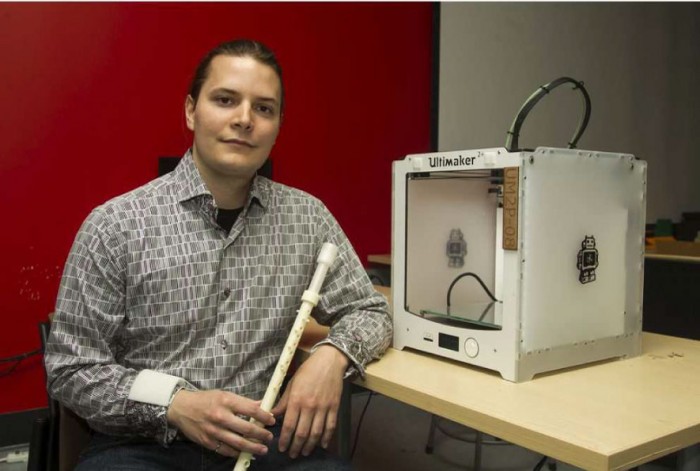 Robert Hunter, Ottawa engineering PhD student with his winning 3D printed clarinet

Alain Trudel, the musical director and conductor of the Ottawa Symphony Orchestra, refers to orchestras in general as "living museums." He told the Ottawa Citizen that it is "where you hear music by composers who have been dead for 200 or 300 years, like Beethoven or Mozart."
Trudel is intent on keeping orchestras relevant and exciting which is why the winning clarinet will be inaugurated into the classical world during the Ottawa Symphony Orchestra's concert on the 4th of November, with a 5 minute piece of music commissioned especially for the 3D printed instrument.

Although technology such as 3D printing comes hand-in-hand with the fear that traditional methods, along with their histories and advantages, will be left behind, it is important to continue to explore this innovation. The National 3D Printed Musical Instrument Challenge is not about replacing traditional instruments, but rather assisting musicians by mitigating injuries and encouraging designs built for unique human morphology.
In the same way that there will always be readers who prefer flipping through pages in a physical book, there will always be musicians who are attached to the sound which wooden instruments produce. The e-book did not replace the print book, it just filled a gap in the market for access to global literature and travel-ready books. Printed instruments will not replace wooden ones, but they will create global access to human-centred instruments.
More on 3D printing in design:
What if you could 3D print your own home in a matter of hours?
Eindhoven University of Technology unveils world's first 3D printed bridge