A ghostly new piece of street art adorns a street in Prague. Created by local artist Veronika Psotková, the work is dedicated to mothers suffering the consequences of the war in Ukraine. Named 'Vinok' after the traditional Ukrainian headdress the wraith-like figure bears, this haunting work of art will hover over Dlouhá Street throughout the summer.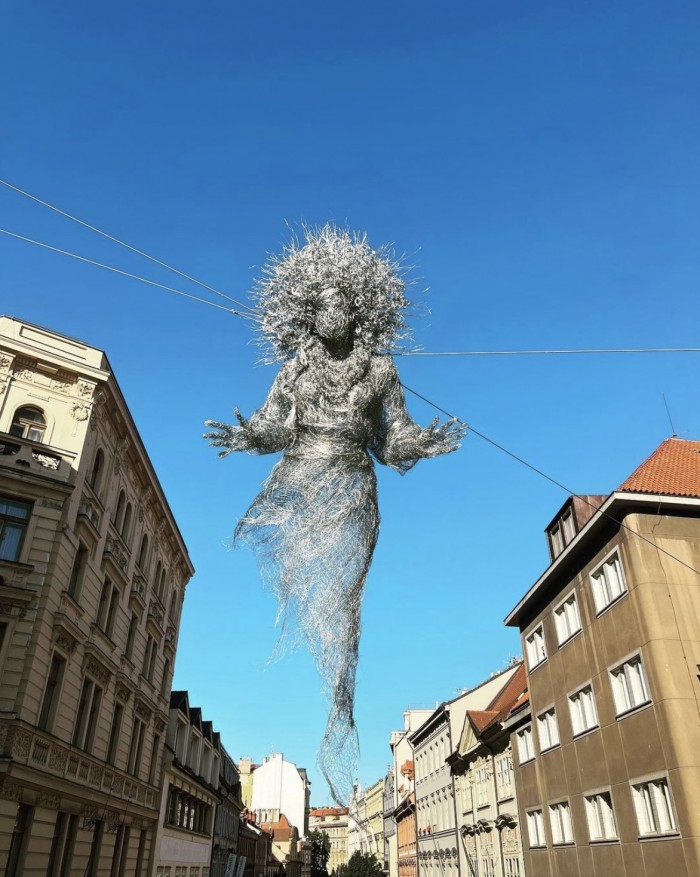 The metal installation is in the form of a female figure in a wreath, suspended in the air. It is best viewed in the dark, as the floating, hovering wire figure is silhouetted against the darkness.
The custom of weaving decorative wreaths dates back to pagan times. They were traditionally worked at spring festivals, but the vinok eventually became a symbol of worship and of Mother Earth. The Ukrainian vinok has been a cultural icon for Ukrainians around the world, with patriotic undertones since Russia's initial invasion in 2014. But Psotková is also referring to all women touched by war.
"For me, the mothers in the war for Ukraine are, of course, primarily Ukrainian women, but also Russian women who live in lies and imagine how their sons die heroically, but also all mothers who are already touched by the war or will be touched by its consequences, including new wars and other conflicts which it will bring, whether here in Europe or in Africa and Asia," the sculptor says on her Facebook page.
The artist told reporters that she was inspired to create her sculpture when she came across a post online looking for a florist from Ukraine who could make beautiful flower wreaths. This sparked her interest in the conflict and its impact on the country's people. "With absolute admiration, I watched the information about the force and spread the symbol. Since then, vinok was in my head every time I saw the news from Ukraine or from us through war refugees, and I thought about how to transform the symbol into a realisable sculpture," says Psotková.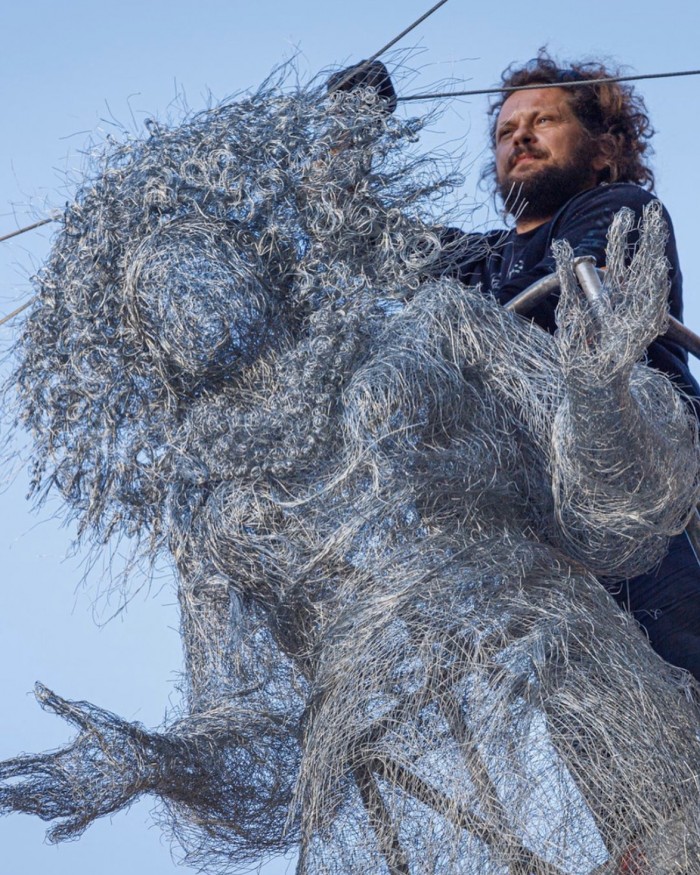 Psotková, who graduated from the Faculty of Fine Arts in Brno, creates unconventional figurative sculptures inspired by realism and pop culture. Two parallel lines characterise her works: One emphasises traditional classical sculpture and popular culture influences, and the other uses wire figures to create unique compositions. The artist's work is very diverse. It includes large-scale and small sculptures made of various materials. They range from abstract works to life-sized portraits and depictions of young people based on classical sculpture.
Read More:
Credits: Veronika Psotková