When Afro-Cuban artist Harmonia Rosales re-imagined Michelangelo's Creation of Adam as the Creation of God and painted both God and the first 'Man' as black women, it left the world shaking in its Eurocentric narratives.
Michelangelo wasn't the only classical artist whose work was re-imagined by the hands of Rosales. The artist tackled Leonardo Da Vinci's Vitruvian Man and re-imagined it as the Virtuous Woman as well as Sandro Botticelli's Birth of Venus re-imagined as the Birth of Oshun, the Yoruba river deity.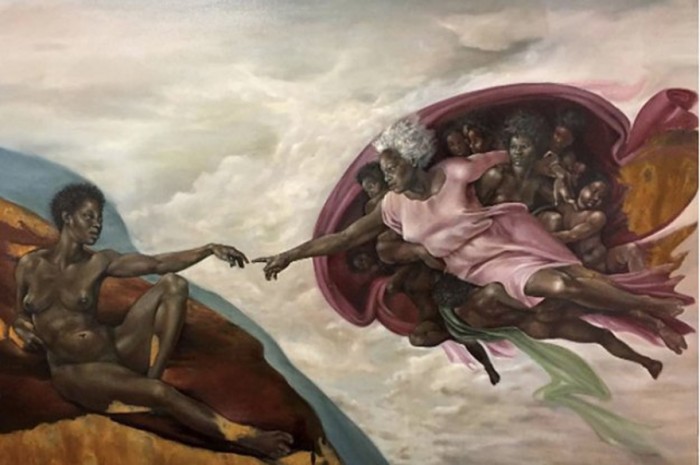 In an interview with Dazed, Rosales explains the reasoning behind her re-creations of these classical renaissance paintings: "I wanted to take a significant painting, a widely recognised painting that subconsciously or consciously conditions us to see white male figures as powerful and authoritative and flip the script, establish a counter-narrative."
She argues that when one looks at classical art, the white figure is dominant throughout the various eras of the medium. The world imagined by these classical artists only comprised of pale, male bodies. This is a trend Rosales was not willing to continue. "When you consider that all human life came out of Africa, the Garden of Eden and all, then it only makes sense to paint God as a black woman, sparking life in her own image," says Rosales.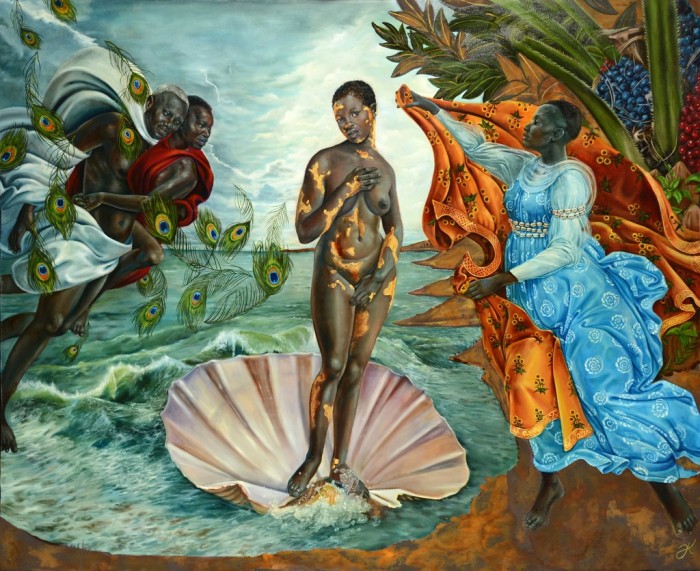 While some praised the Afro-Cuban artist for her bold interpretations, many slammed her art, calling it "disgusting", "disrespectful" and a "desecration of a masterpiece". The backlash, while deterring her just for a moment, encouraged her to keep going, to keep engaging in these kinds of conversations.
"It's inspiring because whether the comments are negative or positive it creates dialogue and provokes thought. I learn from the comments. We are all still learning who we are and how we define ourselves," says Rosales.
Re-creating narratives with people of colour at the forefront stems from attitudes towards her own race while growing up. Being Afro-Cuban and having a lighter skin tone led to many people questioning her race. She therefore paints the subjects in her art a lot darker so that it leaves no room for people to question where they are from.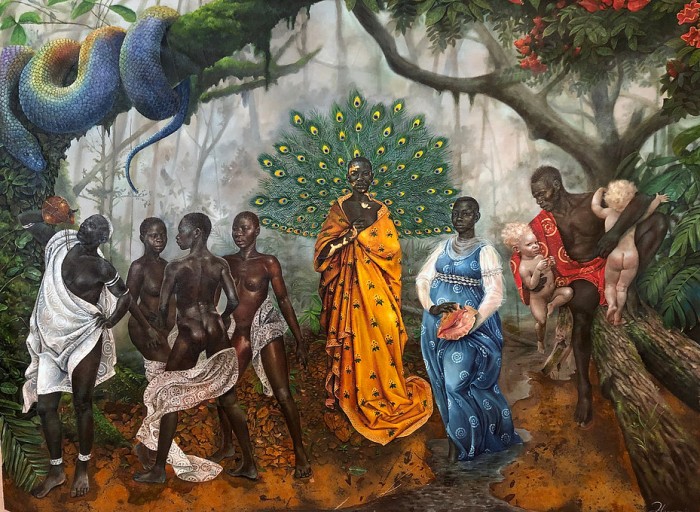 Her work focuses on many classical stories, narratives and mythologies. Her new exhibit, titled New World Consciousness, looks at the duality between the Virgin Mary and Eve. "By making The Virgin Mary and Eve one woman...[I] explore how this one woman represents all of us because we all are perfectly imperfect. By presenting Eve in the same light as we give The Virgin Mary, we begin to accept Eve and her non-conformity as we relate to her through our own journeys of life," says Rosales.
She adds that her new show is an extension of the narrative and message that she has been trying to spread and to get people to engage with. The work that she creates is rooted in the question of "Why have we allowed a continuously manipulated society dictate who is superior in beauty and power?"
"By creating positive works of art using black women, the complete opposite from which we were used to seeing, we can begin to deconstruct our power structure," says Rosales.
Read more:
SA artist uses cow dung to explore questions on perception and aesthetics
Constant, a photo series on pain, love and healing
Alexis Peskine explores the black experience through unconventional mediums