Chile's colourful port city of Valparaíso was declared a World Heritage Site in 2003 but amongst its labyrinth of hillside streets and alleys, lies rundown urban lots that serve no purpose. Sitio Eriazo, a collective of theatre, architecture and art graduates, has made it their mission to restore beauty and renovate these abandoned spaces for community use.
Recently, the collective commissioned Oslo-based design and build group, The Scarcity and Creativity Studio (SCS) to transform one of these lots into a community theatre, called The Wave.
Before they could begin building, Sitio Eriazo and SCS had to clear the area of trash and set up barriers to protect the site. Once that was done, the two teams joined forces to construct an ascending amphitheatre out of recycled timbre.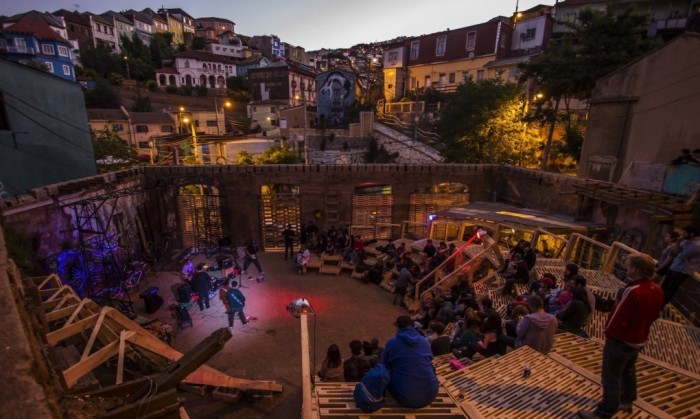 Spiral wooden stands make up the seating area, which wraps around the central stage at ground level.The open area beneath the amphitheatre framework has been turned into a multi-purpose space. The space includes an alfresco cooking area, complete with a pizza oven and barbeque grill, as well as restrooms and a workshop section for various arts projects. In addition to these features, the team also incorporated a vegetable garden into the design.