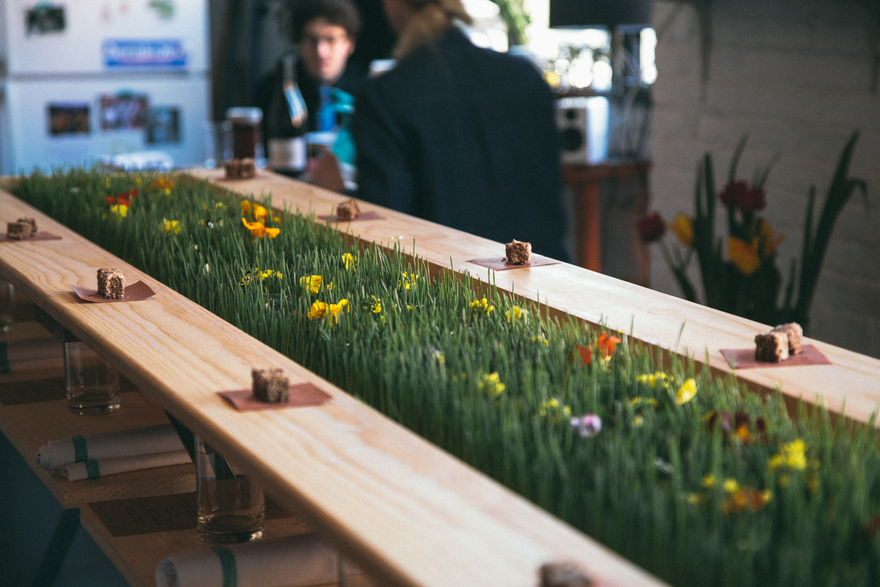 The last decade has seen the popularity of the farm-to-table movement exploding around the world, and Fodder is a new pop-up dining experience that hopes to expand upon this concept. Combining fresh farm and garden fare with the communal setting of public dining, it offers diners insight into the experiences of livestock with dishes based on the ingredients in the feed of those animals.
Designed by Parsons School of Design Masters student, Misha Volf, Fodder takes the farm to table experience and amplifies it, providing a provocative meal experience that questions our connection to animals and nature. Roused by what he finds to be a perpetual disconnect between the production and general consumption of meat, Volf teamed up with chef Aimee Hunter to create a holistic dining experience that would highlight the complicated relationship humans have with the animals we consume.
"With meat, the proposition that food is a real material link between us and the world is intensified, since it connects our bodies to the bodies of others, particularly those of livestock animals," he explained to Parsons. "The cultures of meat consumption and production seemed like a rich topic to explore through the theatrical form of the meal. Meat holds a powerful story, and the meal turns out to be an exciting way to tell it."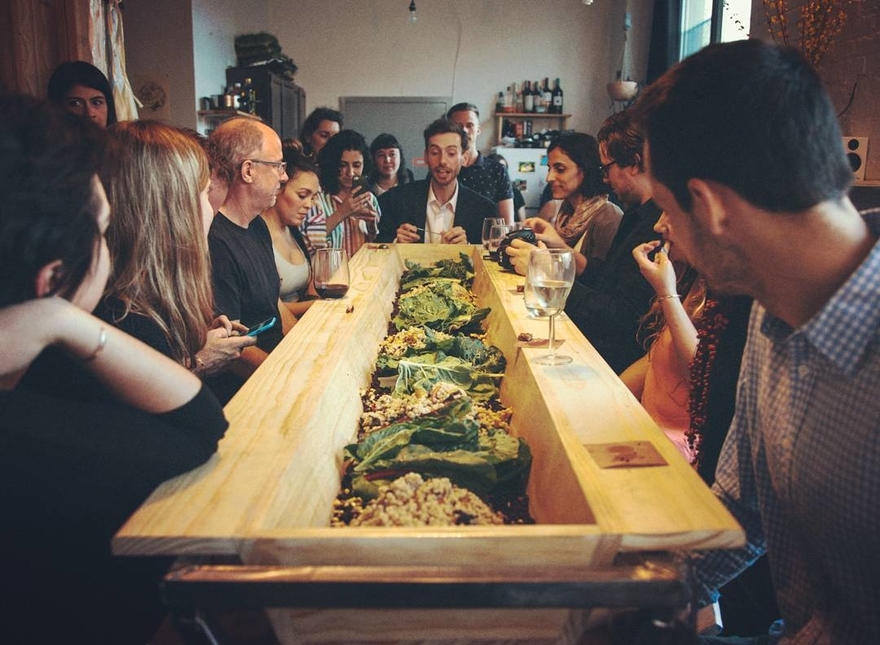 At Fodder's introductory edition in Brooklyn, New York this past April, guests gathered around a rustic, communal feeding basin or, put more simply, a trough. Intended to awaken a sense of recognition amongst consumers, the meal was served without utensils, forcing diners to user their hands, and each dish was designed to correspond to the diet of a cow at various stages of its life.
With a menu featuring a salt lick, dishes made from raw colostrum ricotta cheese, a tempura of hay & grass, barley stew and various sections of a cow named 'Yahoo' – including roast chuck and samplings of oxtail, bone marrow, tenderloin tartare, and pickled tongue – diners consumed the courses atop a bed of edible "dirt".
While not a vegetarian himself – although he does claim to eat very little meat – Volf's foray into pop-up dining could best be described as an exercise in empathy. "The effort is to link my eaters with the animal, with the beast," he says. "Not as a food consumer but as a creature, as a living individual." For him, understanding exactly what we consume is the first step to becoming active in the pursuit of genuinely sustainable food systems.