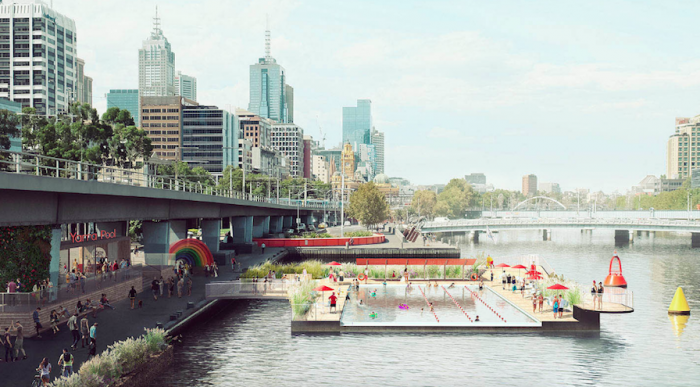 Yarra Pool by Studio Octopi
In 1913, 44 swimmers plunged into Melbourne's Yarra River to participate in what was to become an iconic city event known as the Race to Prince's Bridge. The race became a popular attraction over the course of the 20th century until it was cancelled in 1964 on account of badly polluted waters. Melbourne-based non-profit Yarra Swim Co. partnered with architects Studio Octopi to design the Yarra Pool and drive a movement for a cleaner and swimmable river.
Yarra Pool is a 25 metre lap pool and small kids pool built in a flat-bottomed, floating structure proposed for the Yarra River. The buoyant deck surrounding the pools will function as a communal space with changing facilities and an adjacent restaurant will encourage community gathering next to the pool. The idea behind this setup is to activate the river bank as a public destination and to drive community support for improving the health of the river.
Studio Octopi, a London-based creative architecture practice, has experience in river-based activations. In 2013, it launched the Thames Bath social enterprise, which is campaigning to reintroduce swimming in the River Thames with a floating pool system similar to the Yarra Pool.
For Yarra Swim Co. the activation of the Yarra Pool could lead to the revival of Melbourne's famous three mile swim and encourage the cleanup of the river. However, at this stage the project is still on paper and needs financial backing or sponsorship to be realised.