Feminine hygiene is still an issue for women in South Africa. Without access to proper sanitary ware, many girls miss school to avoid the embarrassment and discomfort that comes with their cycle. An estimated one in ten girls in Africa misses school during their cycle. Girls who cannot afford sanitary ware miss approximately five days of school each month, which places them at a disadvantage.
Non-profit organisation Happy with a Purpose is one of the few organisations in South Africa trying to combat the situation. Founders Zaakira Mahomed, Dr Mashadi Motlana and Lerato Ndoro created the Mina menstrual cup to distribute to girls in need throughout South Africa.
The Mina cup is a small and soft reusable menstrual cup that lasts up to five years. It can be wiped or rinsed clean after each use and sterilised with hot water after each cycle. The cup provides six to twelve hours of protection at a time, and collects up to three times more fluid than a tampon. It comes with a steriliser spray, a cup to sterilise it in, an instruction booklet and a pouch to store everything.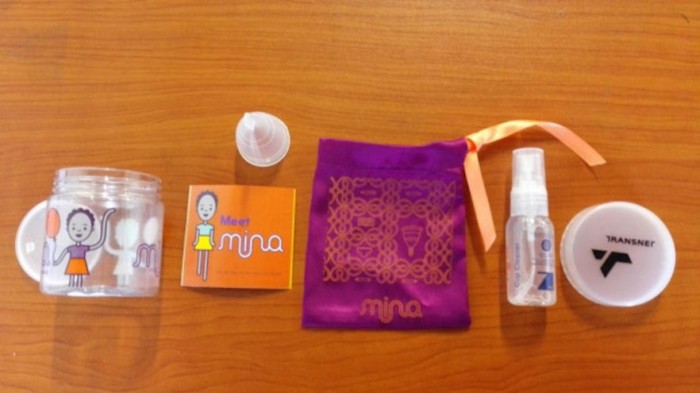 The main advantage of menstrual cups such as the Mina cup is that they are more affordable and sustainable because they can be used long term. Essentially, a girl can use the cup for the duration of their high school career.
It is still difficult distributing sanitary ware for feminine hygiene in rural areas because, in some communities, menstruation is still a taboo topic. The uncomfortable period carries with it embarrassment and shame.
Happy with a Purpose raises funds to manufacture and distribute the cup, and in the process, creates jobs. The cup is manufactured locally with high-grade silicone. Women in different communities produce the pouches in which the menstrual cups are stored. Nurses and teachers educate the girls about feminine hygiene and other issues related to the health of people who identify as women.
The cup can be bought online, and for every cup sold, one is donated to someone in need.