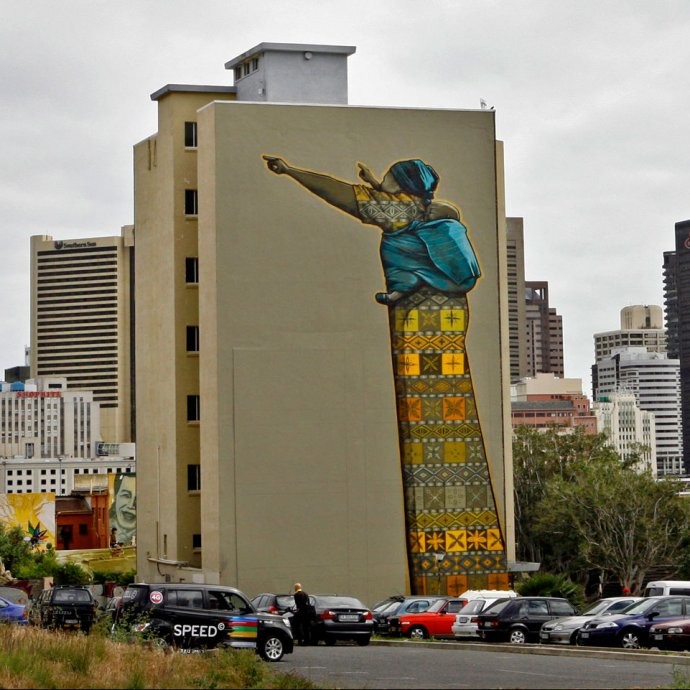 Mural by Faith47.
Faith47's graphic mural against a tall building in the Cape Town CBD is of a grand, tall woman watching over the city, and inspired by a photograph taken by Alexia Webster. Taken in Macassar on the outskirts of Cape Town, the photograph is of protestors – women, children, men and the elderly – the so-called "backyarders" of our society. These backyarders are often families living at the back of yards because there is no other space or housing available, or provided by the state, Faith47 explains.
The backyarders had responded in protest by taking over an empty piece of land. Faith47 chose the particular location because it resonated with where protestors gather before they march to parliament to voice their grievances. In that way the location is also of historical significance for Cape Town.
Despite her reasoning and motivation, Faith47 is adamant that the final image is open to interpretation. The "woman watching over the city… Can belong to the viewer and can be viewed according to his or her owns eyes of perception".
The project was sponsored by the British Council but, says Faith47, "The image now belongs to Cape Town, to its curse and its cure, to the variety of perception that makes up our complex city".
Watch the Talk with Faith XLVII