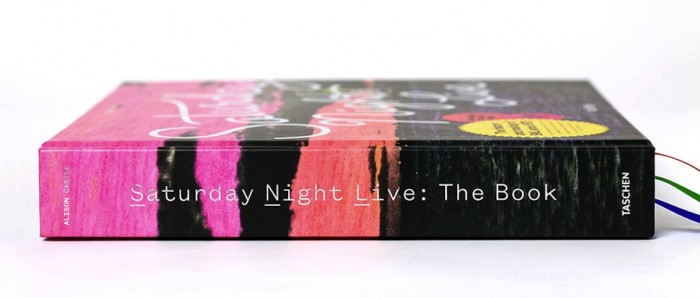 Saturday Night Live: The Book
One of the undoubted highlights of this year's Design Indaba conference in Cape Town was hearing Pentagram partner Emily Oberman detail her long-running work on Saturday Night Live. Emily has worked with the programme for 20 years, creating three separate versions of its identity, various title sequences and even spoof adverts to run in the breaks (like this). Now Emily has teamed up with writer Alison Castle to produce Saturday Night Live: The Book, a 500-page paean to the show which coincides with its 40th anniversary this autumn.
The main design challenge came in the sheer quantity and breadth of the material; it includes a detailed run-down of all of the seasons and some 2,300 images, many of which have never been seen before. The solution was to mirror the programme's famously tight six-day production schedule and so the book uses the idea of a week as its organising structure. This allowed Emily and her team to bring together very disparate material (both in terms of aesthetics and content) and echo the "glorious creative messiness" of the show. To compensate for this, the layouts were deliberately neutral and the type choice (Founders Grotesk) was deliberately pared-back.
The other challenge came from the pressure of working on a pop cultural institution with such a venerable place in US comedy history – add to this both Emily and Alison are massive fans themselves. This maybe helped though, as it meant there was little danger they would let down fellow SNL obsessives. "Having worked on and watched the show for so long it was a thrill and an honour to work on this book," Emily said. "We wanted to make a book that was true to the spirit of the show and would reward real fans with information overload."
Saturday Night Live: The Book published by Taschen is available now.
Watch the Talk with Emily Oberman