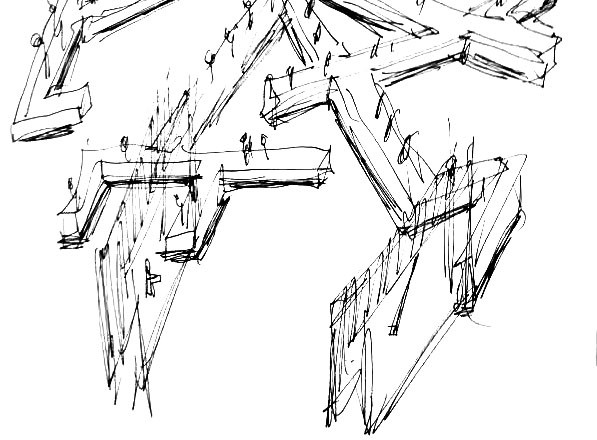 Sketch of the table designed by Daniel Libeskind for Marina Abramovic's performance "Counting The Rice".
Part collective performance, part exercise Marina Abramovic's "Counting The Rice" invites the public to experience the physical demands of long-duration performances.
A major figure in performance art, Marina Abramovic has used her own body as the subject, object and medium of her work throughout her career, exploring the notion of physical and psychological limits. In her performances she has withstood pain, fatigue and danger in a quest for emotional transformation.
Turning simple, everyday gestures into ritual is another central part of this Serbian artist's work: standing, lying down, sitting, dreaming and thinking. When incorporated into a performance of long duration, all of these acts reveal a unique dimension, both for the artist and the audience.
During the performance, which runs from 1 to 11 May, participants will sit down at a table and count two different types of grain for six hours non-stop. The aim of performing this exercise is to develop endurance, concentration, perception, self-control and willpower. It will allow the public to stretch their physical and mental limits.
Renowned American architect Daniel Libeskind designed, in collaboration with Italian furniture manufacturer Moroso, a special table for the performance that will allow multiple participants to sit down together.
A prototype of the table was launched a debate held during Salone del Mobile. Eating Out saw Libeskind and Abramovic in discussion on the theme of food. The dialogue was accompanied by a gallery of images selected by the two, to address and share with the audience individual relationships with nutrition.