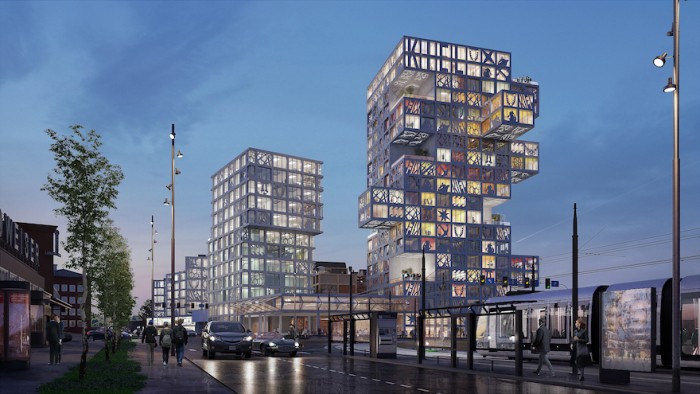 Multipurpose buildings have steadily gained momentum thanks to residents and communities who want spaces where you can do it all: shop, sleep, socialise, work and eat. For designers this presents a challenge – how do you create buildings that serve multiple purposes and that are also sustainable, user-friendly and aesthetically pleasing?
It's a challenge embraced fully by MVRDV. The Dutch firm's co-founder, Winy Maas, spoke on the future of cities at Design Indaba in 2017.
More recently, MVRDV has been appointed to design KoolKiel. This is a 65,000-square metre mixed-use complex on a post-industrial site in Germany that is currently occupied by a large single-storey building originally used for storing chains for ships.
KoolKiel will include a hotel, residences, work, commercial and event spaces. It takes the versatile model of mixed-use design even further. Making use of a "flexible" system, KoolKiel will pay tribute to the history of the site by keeping the existing structure, and adding to it.
What this essentially means is that until it is eventually built, the design can evolve and change. For now, the design proposes placing apartments on top of the original structure. There will also be a new building with shops and offices, topped with more apartments. An office tower will zigzag next to it.
Lively exterior spaces are a key part of the design. A courtyard running between the buildings will be filled with street furniture for residents to use. A rooftop park will wind its way through the housing blocks.
Finally, at the end of the site, there'll be a 250-room hotel. This will connect to the new building through an interlinked public event space that will host exhibitions and events organised by the community.
Community is a big part of this project and MVRDV has enlisted the residents to weigh in on what they want. One area where this is most prominent is the building's façade – no doubt the most striking feature of the building. Made of fibre-reinforced concrete, the façade sits in front of the windows, and displays a series of icons that are inspired by the creative input of the local residents of the area.
"In a location with such a dynamic and creative existing community, it's obvious that the community should have a say in this development," says Jacob van Rijs, principal and co-founder of MVRDV. "KoolKiel is not only inspired by them, but it also allows them to tailor the proposal to their wishes – we're presenting them with not just a design, but also a question: 'how kool do you want it'?"
Here's more:
Visit mvrdv.nl.
Winy Maas on the future of cities
New vertical residences in Eindhoven to be designed by MVRDV
The Why Factory: future-making machine
Credits:
supplied