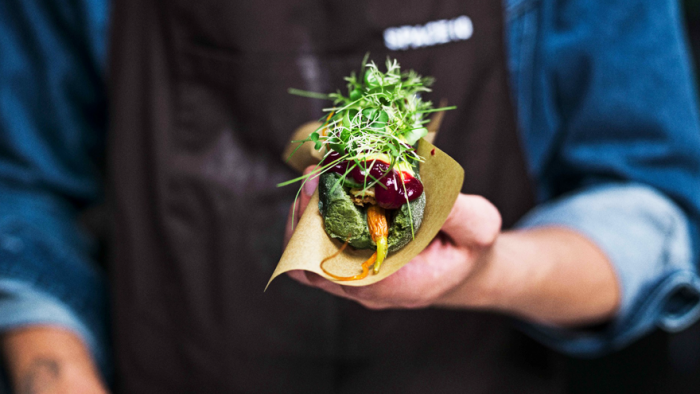 Future-living laboratory Space10 is on a mission to design a more sustainable food culture, and by extension, help the planet. It's no secret that meat production is terrible for the Earth and the ethics of farming animals en masse for our meals is problematic. Wanting to redefine the fast food classics we've come to love, Space10 has designed five nutritious and animal meat-free versions of globally popular dishes without compromising on scrumptiousness.
Targeting the everyday dishes of 21st-century, Space10 has designed the Dogless Hotdog, the Bug Burger, Microgreen Ice Cream, Neatballs and the LOKAL Salad.
Finding ways to make the future a better place to live in, is what drives Space10's vegetable-based projects. Their experiments are designed to get people thinking about reducing their meat consumption, using local produce and trying alternative proteins.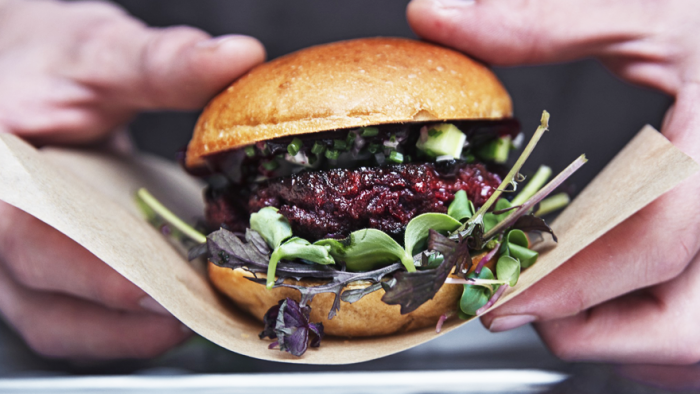 Though plant-based innovation is the foundation of this IKEA-based group, Space10 has tackled the world of architecture, furniture design and urban gardening as well. Recently, they've been working closely with their resident chef Simon Perez to invent dishes that look mouth-watering, taste great, and are good for people and the Earth.
We previously looked at Space10's other future food exploits – the open source Growroom, the Algae Dome and the LOKAL project (which also happens to be a central component of the five new dishes the food scientists are cranking out). Their salad leaves are grown incredibly efficiently thanks to hydroponics, or the art of growing crops without soil. The vegetable ingredients in these new dishes are grown in minimal water that contains a fine-tuned amount of nutrients for maximum growth.
For example, the Dogless Hotdog is made from the algae-based superfood spirulina, dried beets, baby carrots and microgreen salad leaves. As spirulina is charged to the brim with iron and protein, it's a far healthier and filling alternative to the conventional hotdog. The Bug Burger, on the other hand, does have meat in it. This patty is made of root vegetables minced together with mealworms (the sustainably farmed larvae of Darkling Beetles).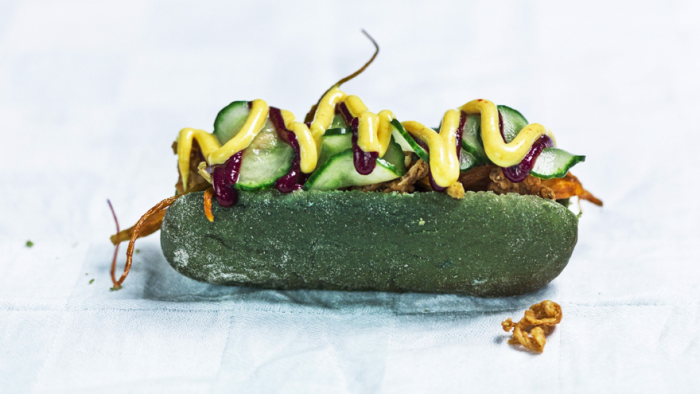 Though the yuck-factor may deter folks from enjoying a bug-based burger at first, the food scientists at Space10 make it their business to create tasty, authentic flavours with no hint of mealworm at all. They want us to gradually move away from the carbon-heavy meat industries without jeopardising flavour or the convenience of a fast-food snack. Space10's ecological twist on the foods we love shows that sustainable and healthy snacks need not be devoid of flavour.
"At Space10, our research is rooted in an important principle. Dishes shouldn't just be healthy or sustainable. They must be delicious, too. To change people's minds about food, to inspire them to try new ingredients, we can't just appeal to the intellect – we have to titillate their taste buds."
Unfortunately, these ecological treats are not yet available anywhere else but the Space10 lab in Sweden, but next time the craving for a juicy burger strikes, imagine what the future possibilities may be.
Photography credit: Kasper Kristofferson