As tributes poured in for the late Archbishop Desmond Tutu – affectionately known as the 'Arch' – members of the public congregated outside St George's Cathedral to lay flowers beside the image of one of South Africa's greatest icons. The anti-apartheid activist and Nobel Peace Prize Laureate passed away on 26 December 2021 at the age of 90. His remains lay in state in the cathedral in which he preached so members of the public could pay their respects ahead of his funeral on 1 January 2022.
Crowds gathered outside St George's Cathedral, where a tribute to Tutu was set up beside the Arch for Arch, the architectural structure that memorialises the life and work of the ultimate peace-loving South African. Designed by Snøhetta, Local Studio and Design Indaba, the permanent wooden structure was constructed on the site where a young Desmond Tutu began many of his peaceful anti-apartheid protests.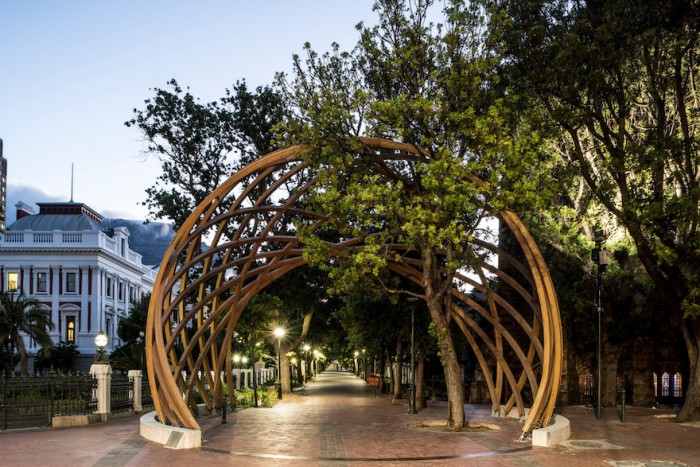 The Arch for Arch was inaugurated in 2017. It was conceptualised to honour Tutu during his lifetime as we too often eulogise those who have passed away without thanking them during their time with us. According to Design Indaba founder Ravi Naidoo: "The piece celebrates Tutu and the legacy of love and joy he's built, as well as the role of art to bring about social change and serve as a catalyst to questions like 'Where are we?', 'Where do we want to be?' and 'How do we get there?'." Read more about Arch for Arch here.
Cape Town Mayor Geordin Hill-Lewis paid tribute to Tutu, who became the first black archbishop in South Africa. "We mourn the passing of the greatest Capetonian, and one of the last giants of our time," he said. "The Arch and Madiba were a formidable pair who together served as South Africa's moral compass, and vocal and critical conscience. Their unforgettable partnership will leave a lasting legacy in helping to heal the wounds of our country."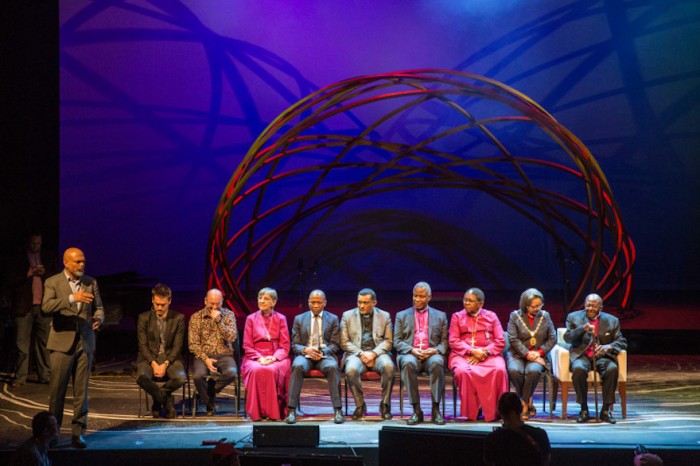 "The Arch's greatest gift to all of us, not just in South Africa but across the globe, was to teach us by his example," Dr Mamphela Ramphele said at an interfaith service honouring Tutu's life.
In keeping with the humility and compassion for the less fortunate the Arch lived by, he was buried in a plain wooden coffin at his own request. He specifically asked that there be no lavish spending on his funeral, but he would have loved the fact that Table Mountain was lit up in purple every night – the colour of his clerical robes.
"His heart was big enough to hold the whole world in love," his daughter Mpho Tutu van Furth said.
Read more:

Arch for Arch.
#ArchForArch 2: The Arch and his legacy.
#ArchForArch 4: Albie Sachs on the remarkable legacy of Desmond Tutu.
#ArchForArch 6: Bringing the Arch for Arch to life.
Credits: Snøhetta, Design Indaba