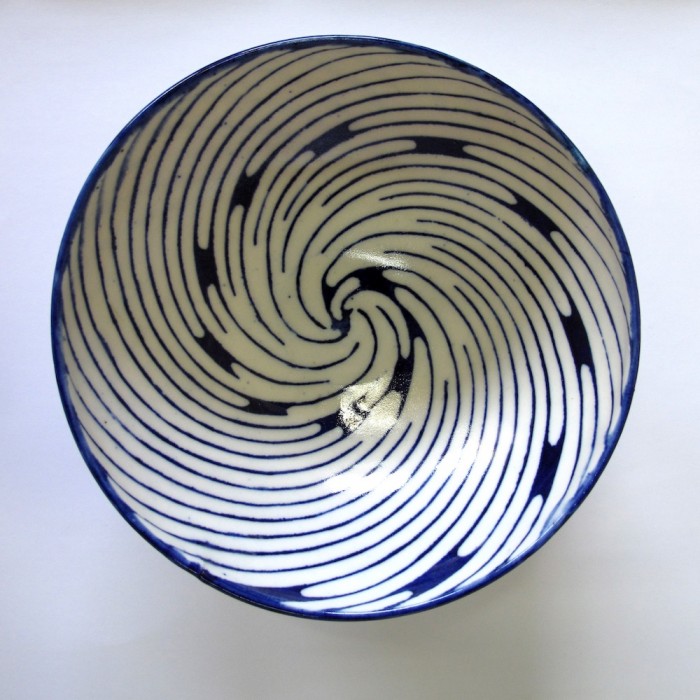 Spaghetti Bowls by Marjorie Wallace.
Marjorie Wallace, a gifted ceramic artist, who graduated from the Michaelis School of Art in Cape Town has been working in pottery for more than 23 years at her studio Matupo Pottery in Harare, Zimbabwe.
Here she produces fine porcelain bowls inspired by traditional baskets. Each creation is scratched, pressed and incised with linear designs and decoration.
"I have loved baskets since I was quite young. I have memories of the people who made them: how they sat, where they collected the grass and what they were looking for when they collected it. We had baskets hanging on the walls in our house, and we used them," she says. "When I started decorating pottery I thought more and more about baskets, how they look and how they are woven. They too are vessels. I saw my task as being no different from the basket makers."
She sources the raw materials for her ceramics from the region. Kaolin comes from South Africa, the bentonite from Mozambique and the feldspar and silica from Zimbabwe. The materials for the glazes are, similarly, sourced regionally.
Wallace designs and decorates the pieces, while Jairos Zangira, who has been working with her for many years, throws the work. Zangira's son Basil has been making the clay and the glazes for the past two years.
Wallace's spaghetti bowls were on exhibit at the Africa is Now stand at Design Indaba Expo 2014, under theme Africa is Sharp!