It may be located in a basement, but there's nothing subterranean about Studio Marsman and Silo Creative Agency's dazzling 8 000m² Bicycle Parking Garage in The Hague, Netherlands. Built for the Municipality of the Hague and situated in front of the Central Station, the underground facility looks like a high-tech gym for bikes, with spacious tracks, efficient red-and-grey racks, and a glass wall that stretches over 1 000m².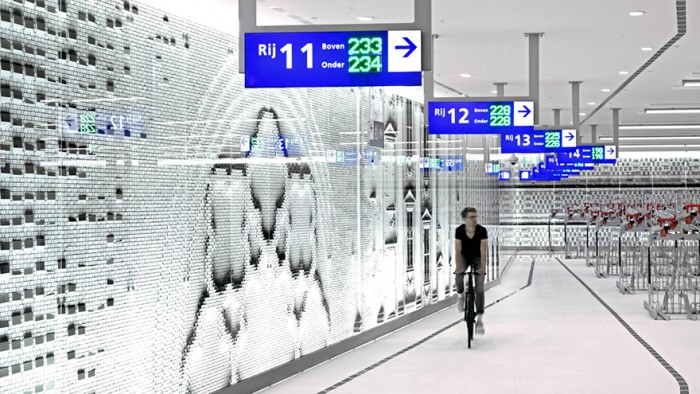 "An enormous space-age airport for cyclists," is how Lonely Planet describes it – and at a cost of 42 million Euros, you can bet it's no ordinary parking garage. In fact, it's just been named design project of the year, graphic design project of the year, and civil and cultural interior of the year at the prestigious Dezeen Awards 2021.
The 3.5m ceiling and bright, well-lit interior provide a sense of almost endless space, while the back-lit glass wall offers an optical illusion of passing some of the best-known sights in The Hague, like the Peace Palace, the Kunstmuseum by Berlage, and the Ridderzaal. The long graphic mural featuring tessellated shapes and patterns appears textured, but this is a trick of the light which, along with the use of a ceramic printing process, creates an impression of depth. And it's all very shiny.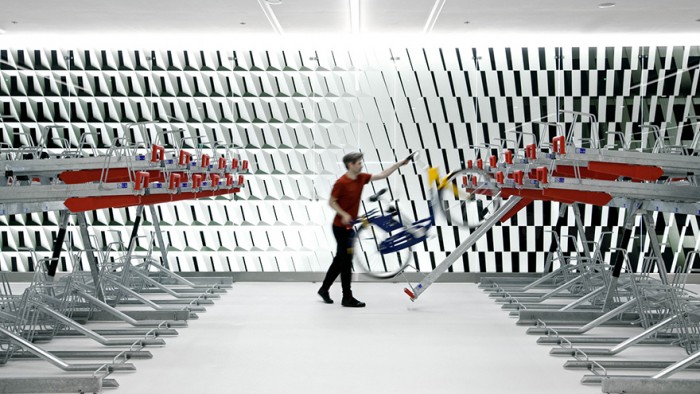 "The goal for the project was to go far beyond the archetypal underground parking garage and create a space that would become a destination in itself," Rene Toneman, creative director and partner at Silo, told Design Indaba. "The eclectic architecture of The Hague forms the basis for the image that encloses the entire parking facility. Façade elements of well-known old and new buildings are subtly interwoven into an awe-inspiring urban landscape – a luminous metamorphosis inspired by the work of M.C. Escher. When you cycle along it, you become part of the fabric of the city."
The futuristic garage provides space for more than 8 000 bicycles, including 600 rental bikes, cargo bikes, and bikes with child seats. The racks are numbered but you can also scan a QR code if you're likely to forget where you've parked. Although it's the ultimate lock-up-and-go venue, the eye-catching design will have you lingering a bit longer than usual.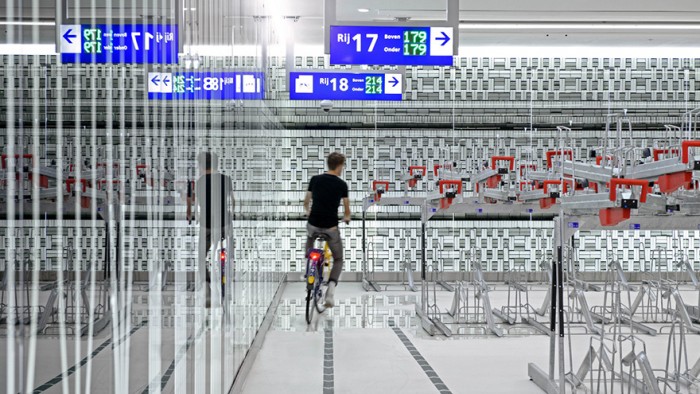 The final phase of the project has yet to be completed. The facility will be temporarily closed when the high-rise buildings are constructed, and the exits are integrated with the above-ground elements of the project, which are designed by Powerhouse Company.
Credits: Silo Creative Agency
Read more:
This bicycle library lends out bikes rather than books.
Bicycle portraits – everyday South Africans and their bicycles.
The smart bicycle dock by engineering student Mardu Swanepoel.