The 'Metamorphic' installation by architectural and design surfaces company Cosentino, in collaboration with world-renowned British designer and Design Indaba alum Tom Dixon, seen at Milan Design Week in April 2023, challenged conventional interpretations of bathroom design by transforming a traditionally functional space into a sculptural sanctuary for reflection and retreat, where the key elemental features of a bathroom were celebrated instead of hidden.
'Metamorphic' gave modern bathrooms the potential to capture the grandiosity of ancient Roman bathhouses in a residential space. Inspired by Dixon's fascination with new methods of modular construction, the installation featured four stone modules of varying sizes that showcased a new vision of the bathroom space as a focal point of interior architecture.
'I've long been fascinated by prefabricated bathrooms inserted into buildings as modules, which was the departure point and initial inspiration behind "Metamorphic",' Dixon explained. By creating a seamless structure carved out of stone, Dixon simplified the bathroom into a unified structure that employed the natural texture of classic Italian stone to emphasise water, sound and light. 'The end result showcases the bathroom as a practical place of refuge, and awakens the opportunity for these spaces to be more expressive and heroic.'
The self-taught designer, whose expansive career has included designing lighting, furniture, accessories, glassware, textiles and even sex toys, also displayed new collections at the Euroluce lighting exhibition at Milan Design Week.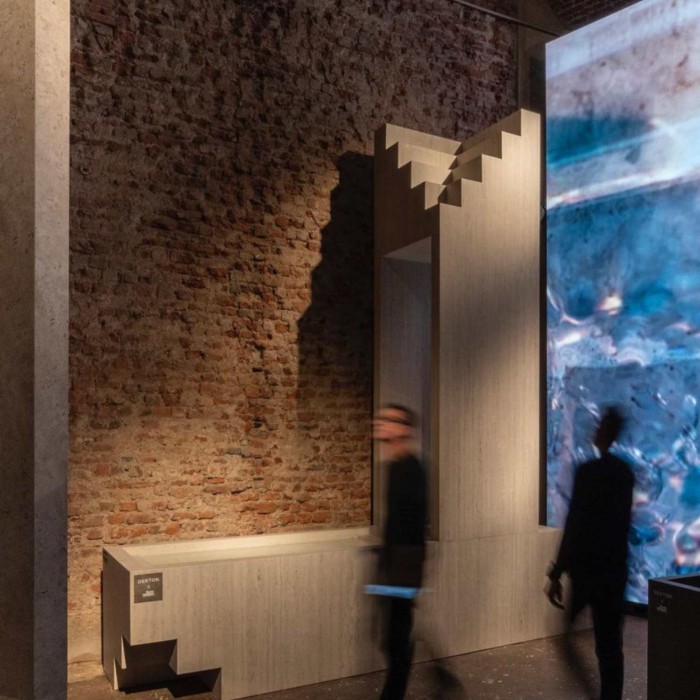 Read more
Here's what you missed at Milan Design Week 2021
Tom Dixon wins 2021 Wallpaper* Design Award
Tom Dixon works across lighting, furniture as well as accessories
Photographs: Tom Dixon X Cosentino.