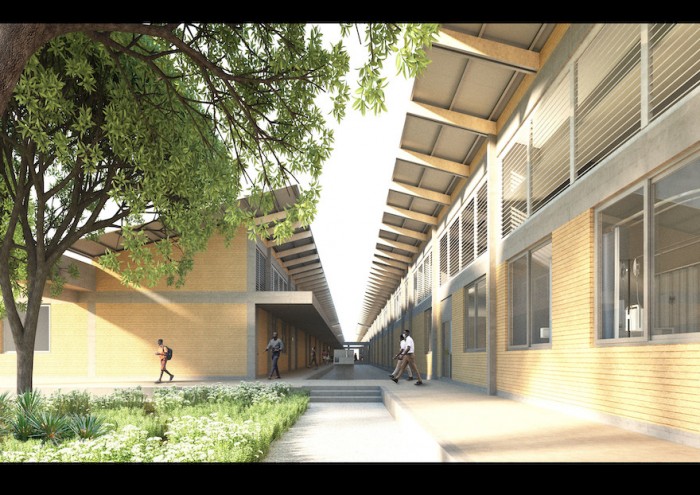 British-Ghanaian architect Sir David Adjaye is well-known for designing the Museum of Contemporary Art in Denver and the National Museum of African American History and Culture – among other high-profile commissions. The Design Indaba Alumnus's first hospital design for Ghana's biggest healthcare initiative will be realised in 2022.
Agenda 111, commissioned by the Ghanaian government, is a major initiative that will see a total of 111 hospitals built. This includes 101 district hospitals designed by Adjaye, two psychiatric hospitals, seven regional hospitals, and a redeveloped psychiatric hospital in Accra.
With the vision of transforming Ghana's healthcare sector into a state-of-the-art healthcare leader and a destination for medical tourism, it was only fitting that the award-winning architect be behind the design. A single hospital design from his London-based firm, Adjaye Associates, will be applied to the 101 new district hospitals, in a scheme that will allow the design to conform to each unique geographic condition in both rural and urban areas.
According to Adjaye: "By approaching the hospital as more than just a place for the provision of medical services, the design scheme aims to unlock the potential of this ambitious initiative by repositioning the hospital as a piece of community infrastructure that embodies sustainability, efficiency, and generously provides green spaces to facilitate wellness and healing."
This emphasis on holistic spaces and adaptability led the firm to adopt a design philosophy that unlocked the centuries-old wisdom of the Adinkra symbols, specifically the Denkyem, the symbol of a crocodile, which is celebrated for its adaptability and intelligence.
Each hospital facility is designed as a single-storey campus featuring primary care facilities such as emergency departments, surgery, maternity and pediatric wards, physiotherapy, OPD, labs and diagnostics. All of this will be supported by other structures such as waiting pavilions, kitchens, energy centres, residences and courtyards.
One example of the design's adaptability is the two types of roof structures employed: Butterfly and Gabled. Depending on the type of building or facility, the different types of roofs will be used to either maximise the amount of natural light and ventilation or ensure minimal exposure to natural elements. Despite the differences in roof structures, however, both will effectively harvest rainwater and provide an insulated shell to minimise heat in the interiors.
The project officially commenced in August of 2021, with the first of the hospitals due to finish construction within 12 months.
Read more:
Edo Museum of West African Art.

Designing spaces with mental health in mind.

Highlighting the need to redesign hospitals for the future.
Credits: Adjaye Associates