Made up of designers, architects and artists Mariana Alves Silva, Katarina Bonnevier and Thérèse Kristiansson, MYCKET is a wholly unique design firm. Based in Stockholm, the group's design style and approach is informed by intersectional perspectives such as anti-racist and queer-feminist theories. Led entirely by women, it's little wonder they were approached to be a part of Sweden's Aiming for Democratic Architecture project.
Produced by Architects Sweden for the Swedish Institute, the Aiming for Democratic Architecture exhibition takes a deep look at the role of architecture in a democratic society and how it can support issues of accessibility, equality, social and ecological sustainability, diversity, and culture.
As part of the initiative, an exhibition space that illustrates this process using various concepts was set up at the 2018 Stockholm Furniture & Light Fair. Offering visitors access to different environments and panoramas, the space – called Panorama – was intended to serve as a meeting place between people and ideas. Through examples of differing democratic perspectives, visitors were encouraged to take a closer and deeper look at the built spaces that surround them.
For their contribution to the space, the creative minds at MYCKET looked for architectural projects that covered a wide variety of aspects including art, research, and equality in both rural and urban areas. "Architecture always carries an excess of meaning," says MYCKET's Bonnevier. "It's purpose and effect are never fully determined. Nevertheless, the aim matters."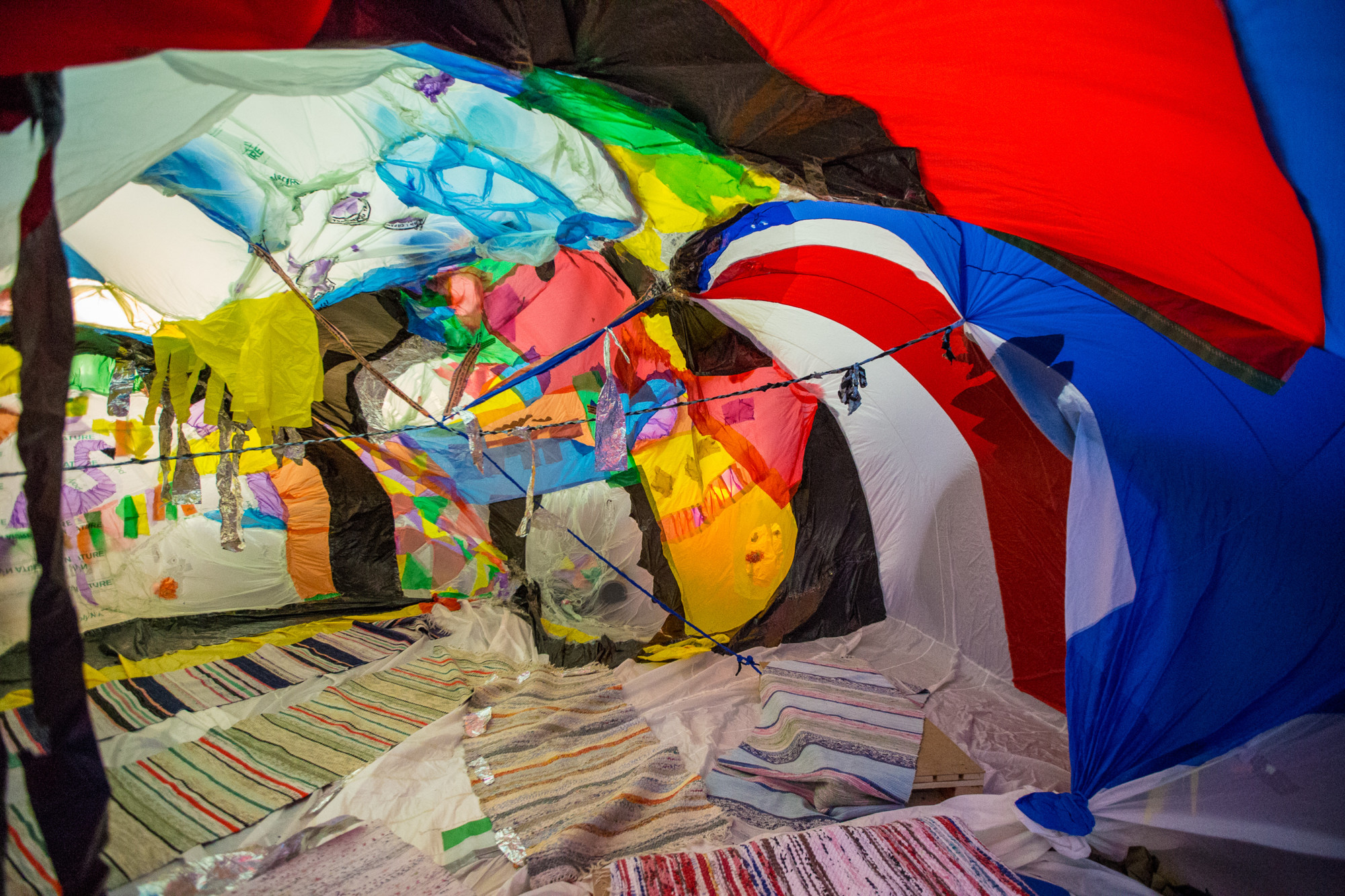 For the exhibition space, MYCKET created a 'Dream Castle'; made from found materials and scraps of plastics that had earlier lives as utilised products. The tent-like creation was built during an intense sewing circle session between 19 people. Kept afloat by a faint but constant air pressure from a fan, it can be entered into by visitors. Other versions of the Dream Castle are experienced from the outside.
Through the taping, stitching, and cutting of the piece, MYCKET developed the type of creation process representative of how big cities should be built, wherein different groups can join in and repair, construct and reinvent where they deem necessary.
Aside from providing engaging content for the exhibition, MYCKET was also responsible for designing the actual space and establishing a way in which people would interact with it. It's a playful arrangement, one the team at MYCKET imagined would invite greater interaction and conversations and possibly even lead to some new formulations and insights.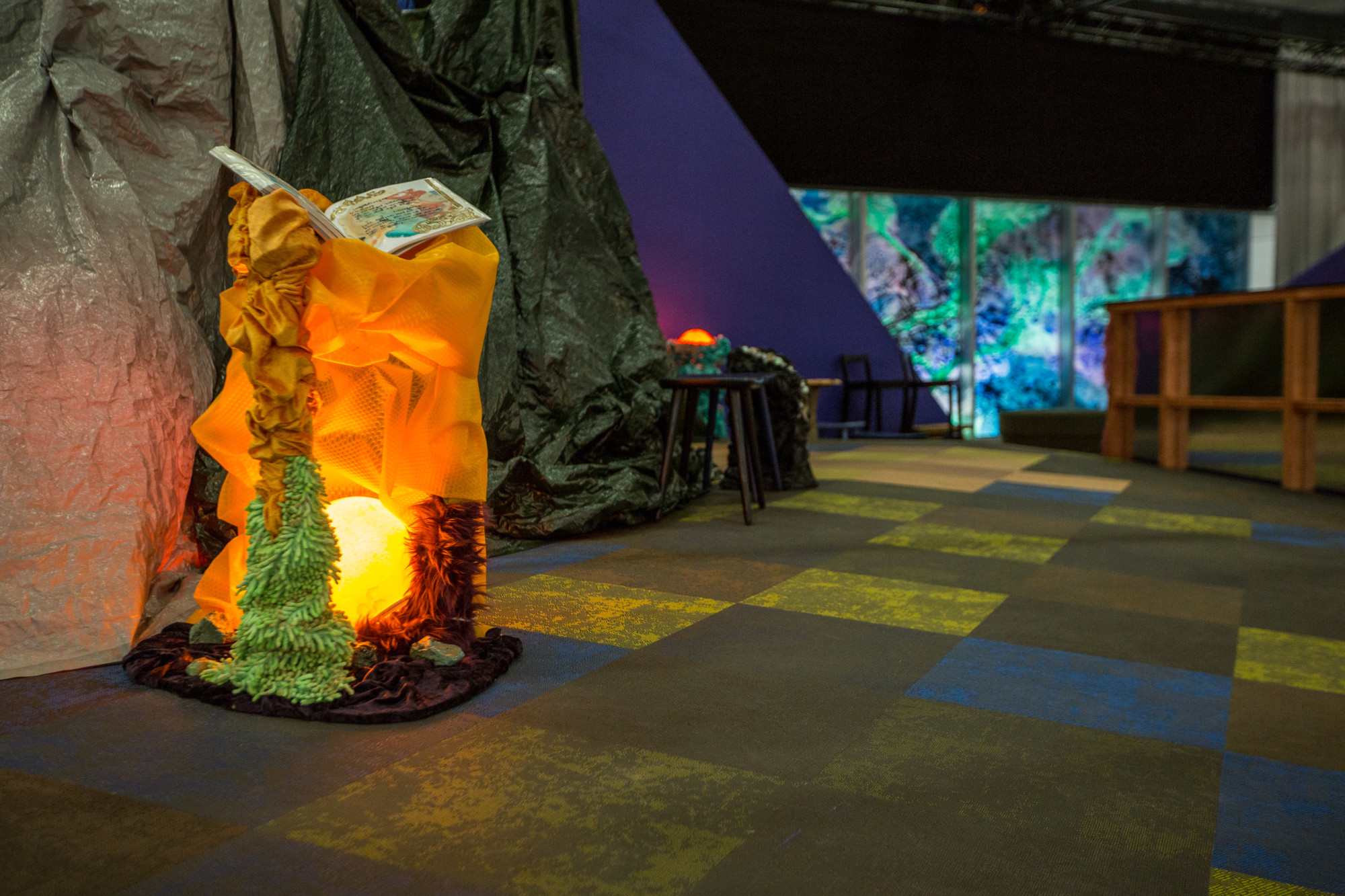 "We designed the exhibition to support and behave similar to the content," explains Bonnevier. "We wished to create one continuous space where the bodies of the visitor are present and not hidden behind standing modules. Moving through the space might lead you to facing a screen or a poster or even a fellow visitor."
It is clear that in architecture, problems exist – but there are also solutions and new opportunities to be found within them. MYCKET sees their practice as materialised proposals that hold the answers to building a world with space for everyone. Our shared spaces, they explain, are powerful means to create reality.