The eco-friendly Italian Pavilion has been one of the biggest attractions at Expo 2020 Dubai, and it is not difficult to see why. At night, the distinctive 3 500m² structure looks like an ethereal vessel carried on an ocean of light – and by day, it is an enormous tent-like structure made of three life-sized boat hulls and a 70km curtain of nautical ropes made of two million recycled plastic bottles. Supported on 150 slender vertical steel pillars, the structure is an apparent oddity, resting atop a 16-foot dune of locally sourced sand.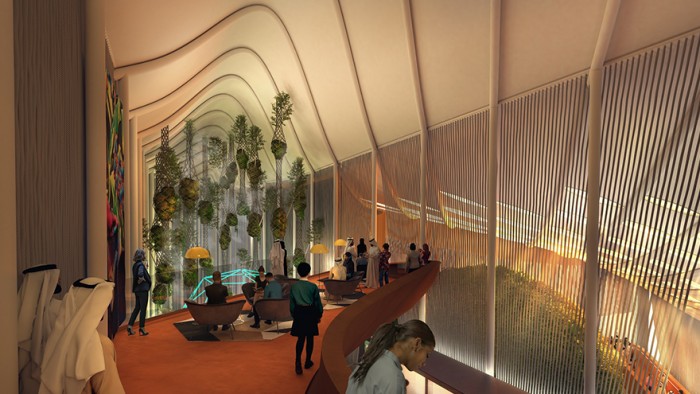 Expo 2020 Dubai is a showcase for 192 countries to engage with the event's broad themes of opportunity, mobility, and sustainability. Inspired by maritime explorers and designed around the theme 'Beauty Connects People', the Italian Pavilion focuses on the shared Mediterranean cultural heritage of the explorers of yesteryear. But it also looks to the future – specifically the circular economy, which discourages waste and promotes regeneration. In fact, the three boat hulls could be repurposed to set sail after the Expo, according to architects Carlo Ratti Associati and Italo Rota Building Office, who designed the structure along with Matteo Gatto and F&M Ingegneria.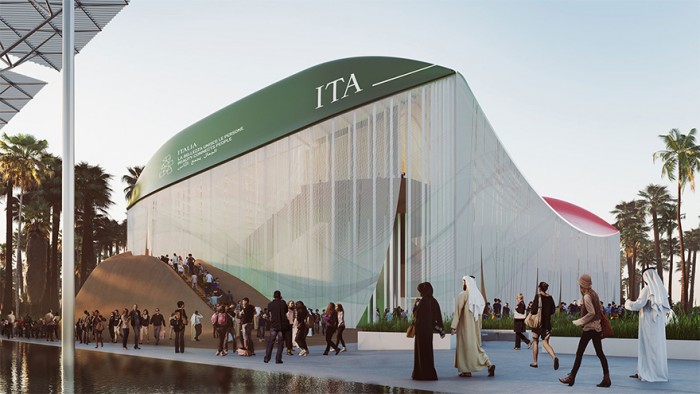 Lit up with the colours of the Italian flag, the Italian Pavilion proudly uses recycled objects to create something beautiful. It also employs new construction materials made from organic and biological matter like coffee grounds and orange peels. In addition, microalgae will transform the carbon dioxide breathed out by visitors into oxygen, thanks to technology developed by TOLO Green, a renewable energy company.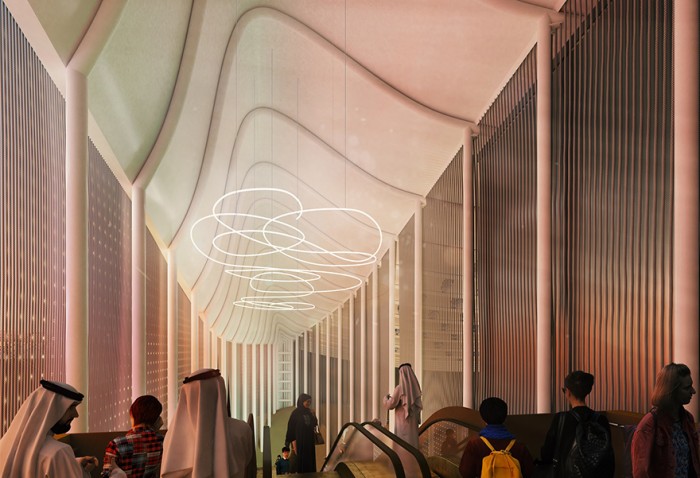 "We are the only company present at Expo Dubai with carbon dioxide capture techniques that make the Italian Pavilion an environment that breathes through the energy produced by the Spirulina algae which uses the carbon dioxide emitted by visitors," said TOLO Green CEO Gilberto Gabrielli.
The pavilion uses a natural climate mitigation system that relies on extensive shading, misting and natural ventilation instead of air conditioning. "The project strives to showcase more sustainable ways to cool our buildings and cities in the future," said architect Carlo Ratti.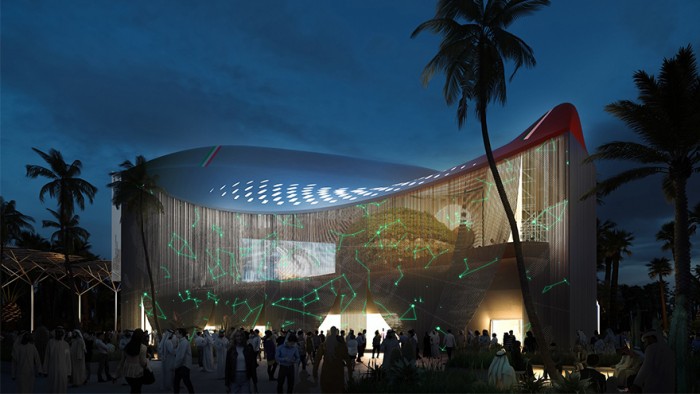 Finally, the curtain of nautical ropes incorporates LEDs that can transform the multimedia surface. Energy transformation company Enel X's dynamic light installations, 'Second Sun' and 'Second Moon', create beautiful lightscapes that change colour according to circadian rhythms over a 24-hour period.
An ingenious tribute to sustainability, the Italian Pavilion won Best Entrepreneurial Project of the Year at the Construction Innovation Awards, which were held in Dubai.
The Dubai Expo 2020 runs until March 31 2022. Read more about the event here.
Credits: Expo 2020 Dubai , Carlo Ratti
Read more:
Design Indaba Emerging Creatives at Expo 2020 Dubai UAE!
Must-sees at Expo 2020 Dubai UAE!
Award-winning artist and designer Es Devlin designed the UK Pavilion for Expo 2020 Dubai