Es Devlin is the first female designer to create the UK Pavilion at Expo 2020 Dubai, following the likes of Thomas Heatherwick, Wolfgang Buttress, Asif Khan and Brian Eno. And she did it with a predominantly female team of experts in Artificial Intelligence and Space technology.
When Es Devlin took to the stage to deliver the keynote presentation at Design Indaba Conference 2018, she took us through her journey from budding artist to the artist who defines how we consume culture today.
From Kanye West's iconic mountain to the multi-screened portal into the soul of Adele, Devlin has been behind some of the most renowned stage designs. Her work goes further than that too. As a creator of performative spaces, she designed The Singing Tree for the V&A Museum in London.
The tree was part of an annual experiential celebration of Christmas where Devlin used machine learning to collect thousands of words from the public. All the contributions were combined and processed by an algorithm trained on 25 million words of 19th century poetry.
The result was a constantly regenerating carol that is complemented by an interactive choir of human and synthesised voices in what Devlin called "an invitation for our machines to sing along with us". It was viewed by over ten million visitors during Christmas 2017.
Devlin and her team of algorithm creators, sound and video designers are no strangers to Artificial Intelligence and mass audiences: Her luminous fluorescent red Fifth Lion sculpture roared A.I. generated collective poetry to crowds in Trafalgar Square during London Design Festival last week.
Now, Devlin used Artificial Intelligence to capture an audience once more for the design of the UK Pavilion at Expo 2020 Dubai, an annual event known as the festival for human ingenuity.
Titled The Poem Pavilion, the project was produced by the London and Dubai based global brand experience agency Avantgarde.
Like her previous large-scale performative sculptures that fuse technology, poetry, light and sound, Devlin's latest endeavour features a breathtaking illuminated 'Message to Space' to which each of the Expo's anticipated 25 million visitors will be invited to contribute.
"The idea draws directly on one of Stephen Hawking's final projects, 'Breakthrough Message', a global competition that Hawking and his colleagues conceived in 2015, inviting people worldwide to consider what message we would communicate to express ourselves as a planet, should we one day encounter other advanced civilizations in Space," she says.
"What if the UK Pavilion at Expo 2020 becomes a place where visitors from all over the world take part in a collective global project that showcases British expertise in A.I. technologies and poetry while transcending national identities?"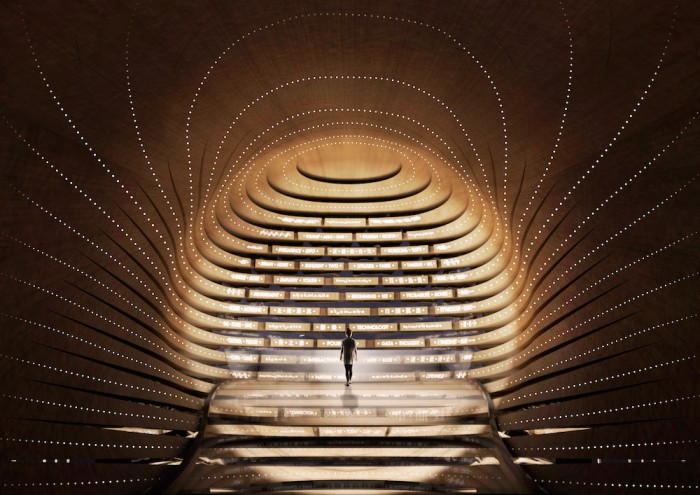 She hopes the project will help to address the underrepresentation of women in STEAM (Science, technology, engineering, art and maths) occupations.
"I've learned from my collaboration with the theoretical physicist Carlo Rovelli, that the evolution of scientific thought is often through the contribution of artists, musicians and philosophers as well as physicists.
My hope is that the fusion of architecture, poetry, music and science in this female-led project will attract and inspire girls and young women to investigate areas of science and technology that they might otherwise have felt weren't for them," she added.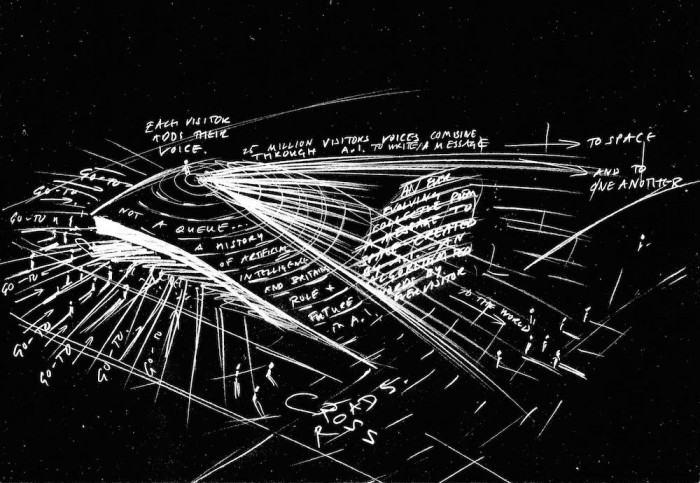 Devlin and Avantgarde will join forces with globally-renowned Manchester-based structural engineers Atelier One and award-winning sustainability engineers Atelier Ten to deliver the complex sculptural architecture of the Pavilion which will highlight innovative and sustainable building techniques and materials.
More on Es Devlin:
Es Devlin on creating visual voices for stars like Kanye West, Beyonce and Adele