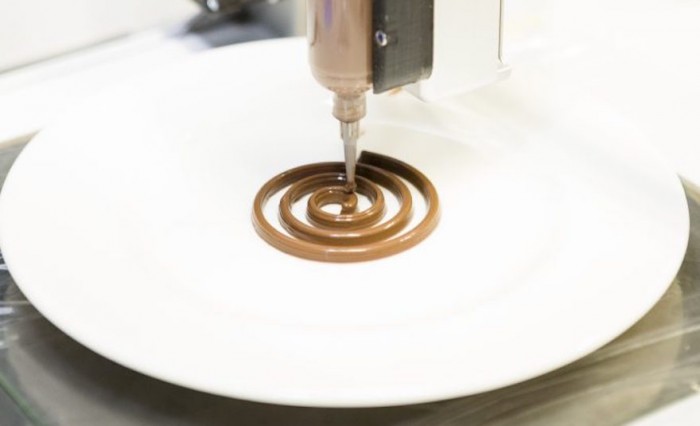 Image: Food Ink
It was only a matter of time until the food industry started exploring the world of 3D printing. First we were introduced to the idea of using food waste to produce 3D-printed products and now we're awaiting the imminent launch of the world's first 3D-printing culinary experience. Food Ink is an experimental pop-up restaurant that will be serving 3D-printed dishes to guests when it opens in London at the end of this month.
The foods used as 3D-printing material all have the right consistency to be piped through the robotic nozzle and transformed into an unusual but edible morsel. Using ingredients like hummus, mushy peas, chocolate, dough and cheese, Food Ink plan to create a gastronomic demonstration by making carefully plated dishes of food sculptures for daring diners.
The restaurant, which will only be open for three days, has acquired portable and multi-material Focus 3D printers from Dutch company byFlow to whip up its culinary creations. The next generation machine is able to print sixty four percent faster than an average 3D printer – an important attribute when it comes to getting food out to customers quickly.
Could 3D-printed meals be the food of the future? The team at Food Ink have only just started exploring the various possibilities of the technology by experimenting with the link between 3D-printing design and culinary art.
"At Food Ink we create edible art prepared by the finest chefs with fresh natural ingredients and 3D-printed live using the revolutionary byFlow Focus 3D-printer," says the company.