During her time at Vega School Johannesburg studying a bachelor's degree in Graphic Design, Naomi Zwane started Minimal Dweba, a brand dedicated to her graphic-design ventures. She describes the brand, which was named as a nod to her minimalist tastes, as both a personal collection and a platform to showcase her custom illustrations for clients.
We chat to Zwane about her beautifully stylized digital illustrations, why she prefers to focus on portraiture, and how her love of art transformed from paper to digital mediums.
Did you always want to become an artist? Tell us where your passion for illustration comes from.
I have wanted to be an artist since I was a little girl. I've always known that I could thrive in a career in art and design! My passion for illustration has humble origins in pencil and paper, which is where I started long before being introduced to digital drawing.
As I grew into my teenage years, I learned that art is very broad in terms of technique and skills. In high school, my art teacher would always encourage me to further my studies in art, which led to an even deeper interest and research into careers in art. When I discovered the digital side of art, I immediately fell in love with what I saw online. As they say, the rest is history.
Describe your creative process.
My approach to design is very simple and minimalist. I just open a new digital canvas and start drawing. The ideas for specific colour palettes, composition, scale and other adjustments come along as the pen tool flows – eventually reaching a pleasing final product. My aim is to design beautiful aesthetic portraits that the audience can be inspired by and connect to through the use of colour and focal point. Every image contains strong body language that communicates emotion or moods through poses or facial expressions.
Tell us what attracts you to illustrating portraits and your signature earthy colour palette.
I like how focal portraits are – they represent more than just the face or body language; they have the ability to show power, importance, beauty, taste and learning. Working as a graphic designer is not only about creating beautiful images but also about making a difference in society. Portraits have the power to encourage people to move in a positive direction and they leave a lasting mark on the audience. I love that I can change people's hearts and minds and influence them on a personal level.
I am a minimalist at heart, so I believe that's the inspiration behind my signature earthy colour palette. I enjoy how earthy colours are inviting, relaxing and so easy on the eye.
Who (or what) are your creative inspirations, and why?
Minimalism, shapes, lines, architecture, fashion, nature and instrumental music (lo-fi beats). I mean, less is more, right?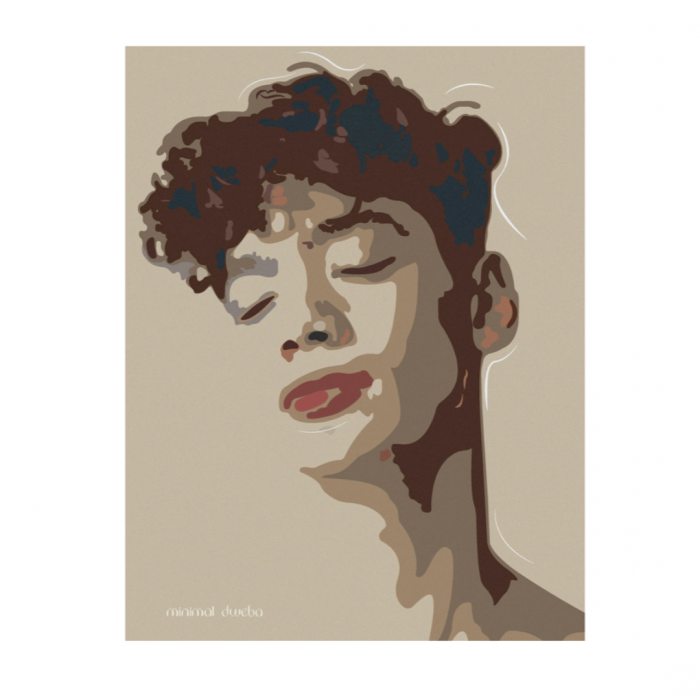 Read more:
Credits: Naomi Zwane