Design Indaba Emerging Creative Julia Duduzile Mohanoe – one of the 40 young talents making up the Class of 2022 – graduated with a BCom in financial accountancy in 2020. It was also in that very same year that she decided she did not want to pursue a career in accountancy any further. She took a leap of faith and enrolled for a Bachelor of Arts in visual communication and design.
The Gauteng-based creative tells us about embracing her true calling, her influences, and where she would like her art to take her in the future.
What prompted your career change, and why did you decide to pursue visual communications and design?
My professional transition should come as no surprise to anyone as I've loved art since I was old enough to grip a crayon. It didn't matter to me that I had a degree in chartered or financial accounting – I've always known that, in the end, I would come back to art.
In 2018, I was given the opportunity to design a poster for Carling Black Label's Father of a Nation (FAN) #NoExcuse campaign. The campaign confronts issues like gender-based violence and kicked off in 2017. I was able to join in Soweto, for the movement's on-the-ground roll-out to communities across South Africa.
The FAN campaign introduced me to our country's extensive usage of unconventional canvases to display artworks. It was then that I first saw Karabo Poppy Moletsane's Soweto Gold Tower mural.
I did not need anything else to convince me that quitting a well-established career was the best decision I would ever make. All I knew was that I needed to Google 'Karabo Poppy Moletsane' and do whatever she did to get to paint a mural that big!
That is how I ended up pursuing a career in visual communications and design.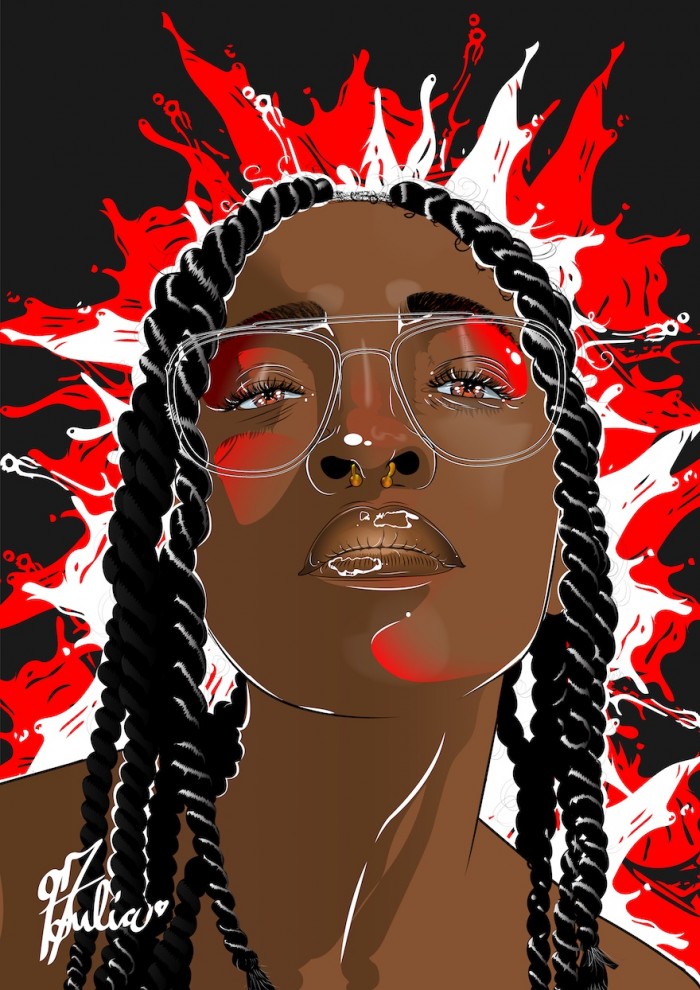 Tell us what attracts you to illustrating portraits, and which media speak to you most strongly.
I'd like to think that I have a strong visual style – one that is so distinct that people can recognise it when they see one of my illustrated portraits. These portraits are the most popular artworks on my social media feeds. However, I am a multifaceted artist and have mastered every medium that I can get my hands on. You can always expect a visual feast when I make art, whether it's with traditional media or digital illustration.
Who are some of your greatest influences, and how have they affected your work?
Karabo Poppy Moletsane, obviously! Thandie Magwaza, Russell 'Yay-Abe' Abrahams, Monde 'Mr HighArt' Mabaso, Keith Vlahakis, and Zinhle Zulu are just a few examples of people who inspired me to pursue a creative career. They inspire me in every way; it is because of them that I enjoy what I do for a living, and I strive to create reality-bending pieces. It is because of them that I constantly challenge myself to do better because I can!
Where would you like your talent to take you and what ambitions do you have?
I want my talent to take me as far as it can, perhaps even beyond the stars; after all, if Futura can go to the moon, why can't I?
However, for the time being, my goal is to inspire black creatives who are just like me – creatives who have enormous and misunderstood dreams, creatives who are looking for a sign that they are on the right track. I want to prove to young black creatives out there that their dreams are worth fighting for.

What are your career highlights so far?
My mural at Thrashers Skatepark is one of my favourite career highlights – and the fact that I've been chosen as a Design Indaba Emerging Creative even though I changed my career only three years ago!
There are no words to express how humbled and grateful I am.
The past three years have been the most incredible years of my life; I don't believe I've ever been happier.
Read more:
Announcing Design Indaba's Emerging Creatives Class of 2022.
Travel, exploration and wonder.
Melting pot.
Credits: Julia Duduzile Mohanoe