Buhle Nkalashe, a Design Indaba Emerging Creative for 2022, is a painter and fashion designer who loves patterns. His powerful mixed-media paintings interrogate black identity and seek to confront colonial narratives, while his colourful fashion items fuse traditional cultural symbols in wholly unique ways.
The Cape Town-based creative, who left advertising to become a full-time artist in 2019, tells us about what inspires him to create.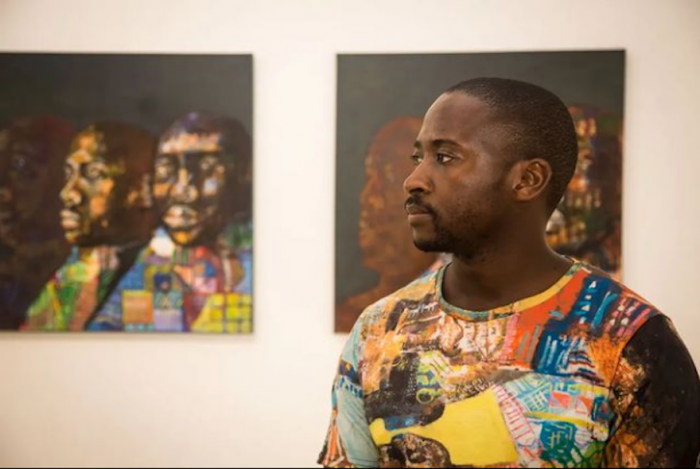 1. Tell us more about the intersection between painting and fashion, and how one feeds the other in your work?
Today, art can be interpreted or projected through many elements. Fashion can be a way to project art in a different form.
2. What inspired you to incorporate traditional Xhosa, Zulu and Ndebele patterns into your work, and what is your working process like?
I celebrate South African people and their cultural heritage. I appreciate this beauty through my interpretation of traditional patterns borrowed from isiXhosa, isiZulu and Ndebele cultures. I feel these patterns and colours are a strong symbol of South African ethnicity. I use oil and acrylic paint, as well as oil pastels on canvas, to layer the patterns and colours that make up my artworks.
3. Celebrating Africa in a colourful, positive way is central to your work - what do you love most about the continent and its people, and how does this feed your creativity?
The vibrancy of colour. As part of my Xhosa culture, I was exposed to traditional clothing at many cultural events and ceremonies. I like to reimagine these patterns in a contemporary African setting to create a new, hybrid South African identity.
4. Who are your greatest influences, and why?
One of my influences is Laduma Ngxokolo (MaXhosa). I love the way he borrows isiXhosa colours and patterns from his culture and reimagines them in a contemporary African setting.
5. What is your vision for your work – where will it take you in ten years' time?
It is difficult to say because creatives evolve all the time. I do see myself exploring other avenues in art and fashion.
Read more:
Announcing Design Indaba's Emerging Creatives Class of 2022.
Travel, exploration and wonder.
Credits: Buhle Nkalashe