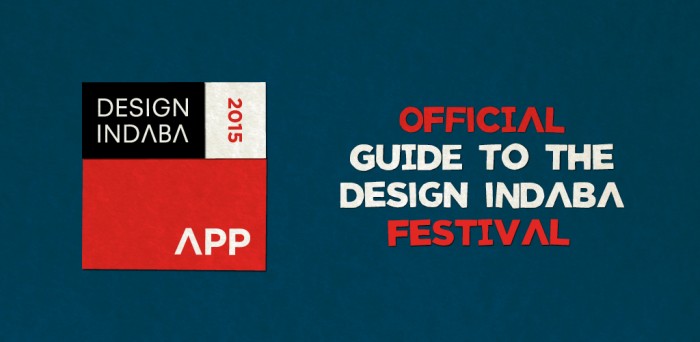 Design Indaba Festival 2015 official app
In an effort to cut down paper waste, Design Indaba Festival has gone digital for 2015 event programmes. The Design Indaba Festival App keeps festival attendees updated with the full lineup of events and projects on offer in February 2015, including the globally acclaimed Design Indaba Conference and Simulcasts, the ever-popular Expo, the 10-day FilmFest, Music festival and other special events.
Download the Design Indaba Festival App for mobile from Google Play or the App Store.

It is the best way to ensure you have the best Design Indaba Festival experience.
Those who download the app will be the first to receive speaker announcements, ticket information and new additions to the programme. Use the app to find information on speakers, exhibitors, music artists, performers and films on the festival programme. You can also access venue maps, ticket sales and schedules, check in to events and save your own schedule to your device. And now you can also enable the app to work offline, downloading the programme to your phone to save data usage.

Follow our social feeds in-app to keep up with the festival buzz in one place. Interact with other delegates online, write on our fanwall and share content with your favourite social networks. Tag your Instagram or Twitter pics with #designindaba to feature in our app's photo feed. We also have some fun photo frames coming soon.
Please note:
Users of the 2014 or 2013 app will need to run an update from the app store.
Notifications must be enabled in app settings in order to receive announcements.
The app is available on iOS and Android phones only.
All of our content is available for free as part of our mission to create a better world through creativity.