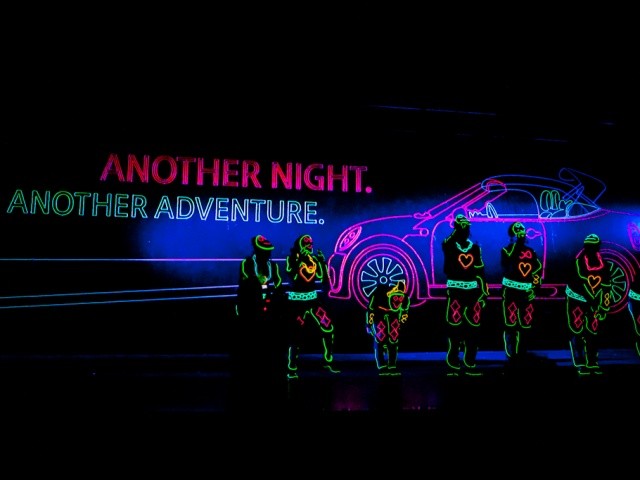 The international performers were joined on stage by a glittering representation in lights of the newest addition to the MINI family – the brand new MINI Roadster. The closing mystery performance at Design Indaba Conference is always highly anticipated, and this year was no exception.
MINI is an exciting brand that has always delivered a heart-pumping, adrenalin-inducing drive. With the introduction of the MINI Roadster, it was more important than ever to launch the car in a way that was befitting of the sexiest, most evocative MINI yet. "The MINI Roadster has design and adventure at its core and so does iLuminate. They were our first choice to reveal our latest adventure," says Karen Valle, General Manager of MINI South Africa.
iLuminate is a world class act that is ahead of the entertainment curve. Their groundbreaking performances are sonic and visual spectaculars, combining dance, high-energy beats and light spectaculars for an unforgettable experience. iLuminate is best enjoyed in the dark – just like the MINI Roadster.
It's this thinking that has led to taking the MINI Roadster on Another Night, Another Adventure tour across the country in the weeks to come. The challenge to night owls, or anyone else whose day only starts once the sun has set, is to own the night with the MINI Roadster. Best enjoyed after hours, the MINI Roadster is the sleekest, most exhilarating pair of wings people who live to have fun in the dark could own. The MINI Roadster billboards will thus also only come to life at night.
MINI Roadster is the 6th model in the brand's current line-up and the first open-top two-seater in its history.  MINI Dealerships around the country will be offering special late-night test drive experiences for customers at specific times in the next few months.  However, customers don't have to wait to own the night. By finding the unique MINI QR codes hidden at top night spots across JHB, CPT and DBN or on popular local blog sites, members of the public can win the ultimate nighttime adventure with MINI from 2 March 2012. QR code location clues and details of what can be won can be found on MINI South Africa's Facebook and Twitter home pages.