One of the Design Indaba Festival's most anticipated events, 2019's trend seminars with Li Edelkoort will be held in both Johannesburg and Cape Town – at the LISOF: Fashion Design School & Retail Education Institute and the Artscape Theatre Centre respectively – giving attendees across the country the opportunity to hear from Li and to discover how trends – from fashion, colour and textiles to interiors, lifestyle and more – are emerging in a world in transition.
Li Edelkoort is arguably the world's most famous trend forecaster. Her Paris-based company Trend Union produces forecasts which are used by strategists, designers and marketeers at brands from Armani to Zegna in all price points from Zara to Prada. Edelkoort is also a publisher, humanitarian, educator and curator. Since 2015, she is also a dean at Parsons in New York where she has established New York Textile Month each September and a Masters in Textiles opening in 2018. She has been named by TIME Magazine as one of the Most Influential People in Fashion and by Icon Magazine as one of the Most Influential People in Design.
SUMMER 2020: FASHION WILL CELEBRATE OUR CONNECTIONS RATHER THAN DEBATE OUR DIFFERENCES
Folklore can be considered the unselfconscious picture of oneself; a way people share an identity and a strong sense of belonging. They identify with a region, its landscape, its history and its culture, but most of all they belong to one another. In each village of each valley the ingredients are the same, yet the execution differs and adds another local layer of meaning. It is a community based, peer-to-peer cultural activity where the group carries the creative direction and federates individual expressions. In fashion, folklore keeps reinventing itself as society moves from one period to another and different generations establish their multiple identities. For the seasons to come, Li will unveil how folk fashions will come to the fore once again, growing as a global macro trend to reckon with. As she says, "a method of learning what is intrinsically human."
Li predicts that clothes will be craft-minded cultural carriers. When considering whether the cultural appropriation debate has gone too far, Li will discuss how the study of the global folkloric fashions can teach us a very important notion: not one folklore is unique and not one expression singular. "In very distant regions, humans have had similar ideas on how to dye fabrics, how to weave colour, how to embroider flowers, how to design stripes, how to develop crochet, how to invent a stitch." Li continues her observation: "In multiple cultures motifs such as the clan, the circle and the dot have specific spiritual or tribal significance; yet these symbols can also b seen as visual maps connecting the human condition."
As for Li herself, she recently conducted her DNA test and found she has ancestors in regions from Central Africa to Mesopotamia, Mongolia and north Scandinavia, as well as her native Holland. "It is therefore no wonder that folklore has always been in my life and in my wardrobe!"
INTERIORS 2020: OUR HOMES WILL EMBRACE COLOUR LIKE NEVER BEFORE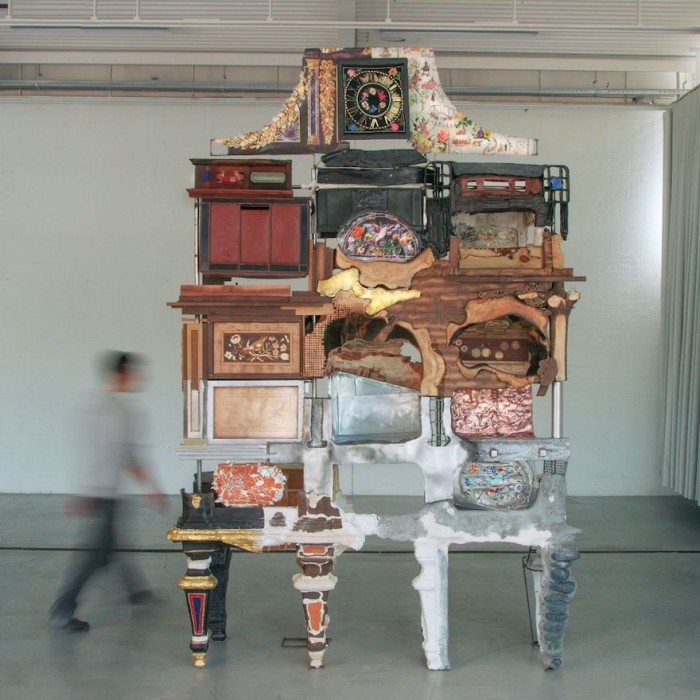 After twenty years of great autonomous design, with the development of innovative materials, the testing of outsized volumes and the inclusion of changing rituals, the new focus in the house of the future will be the use of colour. Li feels that this taste for colour is just beginning and will grow in the next decade, influencing consumers to become happier. "The innate fear in people for using colour is gradually giving in to the joy of manipulating it to transform materials and give life to otherwise forgotten spaces and products. A splash of yellow can wake up a room, a shadow of grey can design a space, a touch of pink can make people smile."
With the renaissance of colouring comes new codes of conduct. Li's 2020 forecast unveils a contemporary palette of unusual colour ranges, with sophisticated harmonies, "Where the green range includes blue and yellow, the terra cotta range includes pink and slate, and the neutral range includes skin and bone; slightly off combinations to make the same old look brand new and enticing.
"In the homes and interiors of the future, colour will impose its new rules and ruffles, thus changing objects by giving them a more vibrant energy. Actually modifying the way we move through space, how we design different rooms and live out a more expressive existence.
Dates and times for Li's seminar:
JOHANNESBURG FEBRUARY 25, 2019
2:00 – 5:00 PM
CAPE TOWN MARCH 2, 2019
9:30 AM – 12:30 PM
TICKETS 850 ZAR ADULTS
750 ZAR STUDENTS
BOOKINGS www.webtickets.co.za
The Design Indaba Festival 2019 will take place from Wednesday 27 February to Friday 01 March 2019 and will be held in the Opera House of the Artscape Theatre Centre in Cape Town. The Design Indaba Cape Town Simulcast will be screened as a live feed from the main conference and will take place in the Theatre Venue at the same location. The Design Indaba is widely regarded as the leading conference of its kind and is powered Woolworths, Mercedes-Benz and Liberty.
Ticket sales for the Design Indaba Conference 2019 are officially open and booking can be done through www.webtickets.co.za and for more information on ticketing please see here.
For more information contact:
• Julia Freemantle | julia@scoutpr.co.za | +27 21 685 0169
• Lauren Shantall | lauren@scoutpr.co.za | +27 21 685 0169