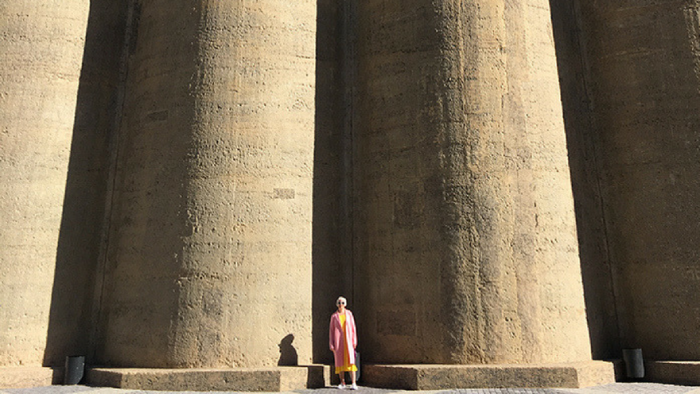 We arrived at Zeitz Museum of Contemporary Art Africa [Zeitz MOCAA] in a fleet of brand new Mercedes cars. I was familiar with images of Thomas Heatherwick's building but nothing beats experiencing the real thing. Buildings need to be physically experienced as pictures only tell 10% of the story or maybe even less. The building is totally incredible such a creative way of transforming an existing industrial building into a place of beauty and new function. We all gathered and were taken around the galleries by an incredible curator who explained all the art in brilliant detail and added so much, each piece of work had a deep story attached to it. This is the first museum in Africa of Contemporary African art – there are 80 galleries. Thomas spoke gently and eloquently about how the building came about and how it stemmed from his first talk at Indaba and his strong working relationship with Ravi Naidoo and the director of the museum David Green.
Dinner was held in the dramatic backdrop of Table mountain in the building's restaurant, a wonderful night meeting new people. Early to bed for me and no alcohol as talk the next day.
Morag Myerscough: Zeitz MOCAA
Morag Myerscough: Zeitz MOCAA
Wednesday
Up at 5am as needed to be at Espresso TV station to do a quick snippet with Neo Maditla, the editor of Indaba, I did not realise I needed quite so much make-up…
8.30am over to the conference, stopped by my temporary installation Embrace the Unknown in the Artscape Piazza to see if all ok for start of the conference.
Conference begins. Full house. Brilliant MC's Michael Beirut, Lebo Mashile, Buhle Ngaba. The filmmaker Sunu Gonera started the day with an astounding discussion on Afrofuturism and received a standing ovation.
The young professionals present pieces of work: Aleksandra Gosiewski tackles clothes waste and Tomo Kihara with his debating machine. Edel Rodriguez and his Trump body of work was just brilliant!
By this time I am pretty nervous as I am first on after lunch. The sun is beaming outside and great to see everybody moving around and swinging on our structure. After my talk, I have to do a few interviews so missed a few of the speakers.
Last on was Thomas Heatherwick — oh my what incredible work he is doing with his studio, one amazing project after another. He gently and with humour, spoke about his strong mother and how she had a bead shop that was not ordered in colour and shape and didn't have fitted shop units but was more organic and how he was embarrassed as a young boy and he wanted to simplify and order her environments, but now he understands and embraces his mother's approach.
"The heart of places"
The conference day ends. I am back out on the Piazza enjoying the sun and having wonderful enlightening conversations with delegates.
Truly an inspiring first day — social change!!