Furniture designer, Sifiso Shange, got his start back in 2012 when he was inspired to create furniture that preserved the traditional ceremonies and gatherings in his Zulu culture. The designer decided to create unique, modern furniture pieces under the label 'Afri Modern'.
"Afri Modern prides itself in the preservation of authentic African stories, specifically stories of my culture. I want to make sure I preserve them for the future," he says. "I think my purpose is being a vessel between the past, existing in the present and creating for the future."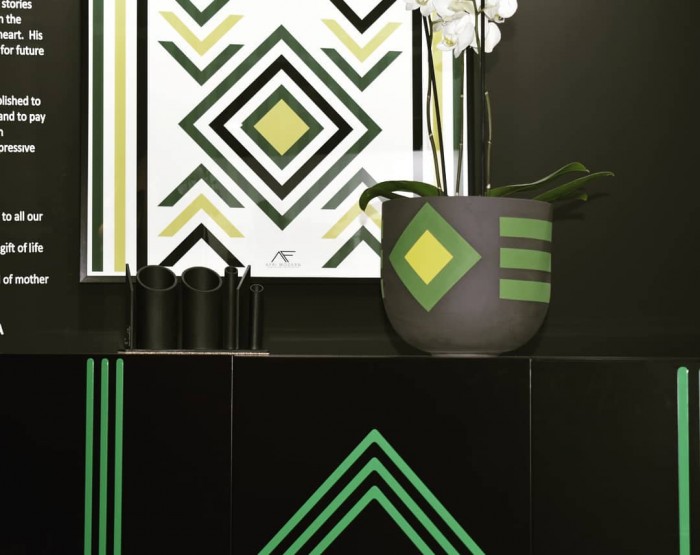 We caught up with Shange at 100% Design in Johannesburg where he was exhibiting his designs. The centrepiece of the exhibition is a cupboard, called "Mummy Server" which he created as a tribute to his mother and the other women in his life.
"I was raised by my mother, my aunts, my clan and my grandmother. These women shaped the man I am today. So, it's a tribute to them and my female friends," he explains.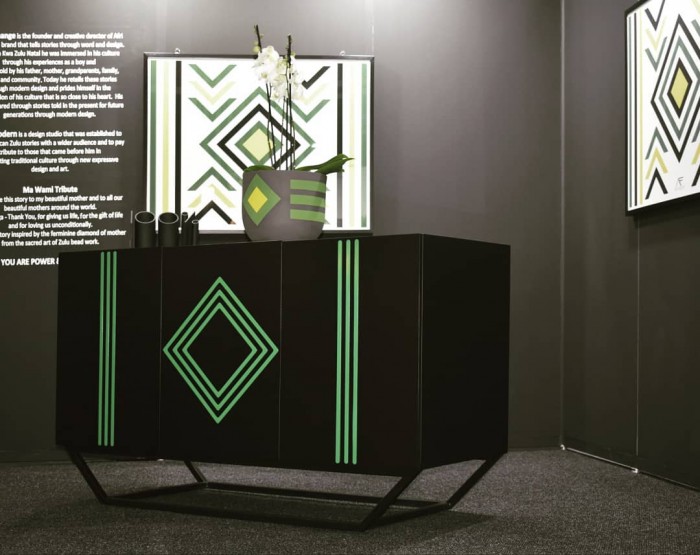 A key design aspect of the piece is the diamond shape which can be found in all his designs. Shange revealed that that shape is sacred within Zulu culture, as it represents both the female and the mother.
"I'm honouring them by using that [the shape], but also paying tribute to them through modern designs such as the server so that it is more relatable and that they also get to appreciate it more," says Shange.
The key print design used by Afri Modern also celebrates women. It is again a diamond surrounded by black, green and yellow arrows. According to Shange, the black celebrates the black woman.
For him, the green symbolizes the colour of birth and it showcases new life. The yellow, on the other hand, is showcased as part of the sun and the start of new beginnings.
"This print is to celebrate women, but also to celebrate the power that women have in terms of the gift of life and the gift of love. It's a celebration piece," he explains.
We first met Shange in 2018 as a featured exhibitor in the Design Indaba Emerging Creatives Programme. The designer showcased his work over three days along with 40 other South African creatives.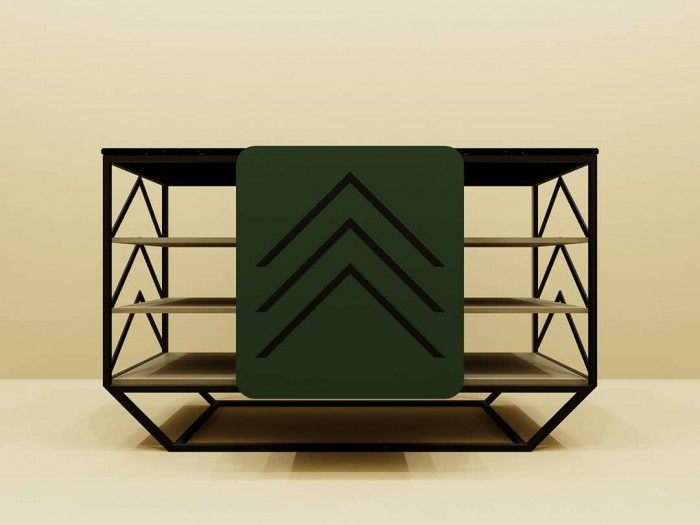 According to Shange, exhibiting at the Design Indaba Conference was a career highlight for him.
"It exposed me to so many other creatives, and I learnt so much about myself as a creative. It also gave me a great opportunity to see what the world is doing and from that, I was awarded the opportunity to be part of 100 % Design."
When Shange exhibited at the Design Indaba Conference in 2018 he started with two side tables and now he has built up his catalogue and is exhibiting his work around South Africa.
"I always tell people this to give thanks to institutions such as Design Indaba that constantly make it part of their agenda to make sure that young creatives such as myself get the opportunity to express ourselves."
Read More:
Ukugrumba exhumes the tales of forgotten foot soldiers of the past
Lukhanyo Mdingi on the defining characteristics of his eponymous label
Primrose Chimhanda on nature as inspiration for her textile designs