A sustainable 'all-senses' planetarium inspired by the movement of the stars has opened in the Douai region of northeast France. The Orionis Planetarium is a celebration of astronomy and local biodiversity that aims to harmoniously connect the Scarpe river and wetlands, the nearby Arkéos archaeological museum, and a residential complex.
In 2020, France designated the Scarpe and Escaut valleys a 'Wetland of International Importance'. The complex of connected ponds, marshes, canals, peat bogs, alluvial and swamp forests, rivers, streams and aquifers, which lies between the Scarpe and Escaut rivers, includes natural and manmade areas that provide habitats for nesting and migrant birds, and host diverse fish and amphibians.
Aiming to produce a destination that works with this natural environment, Snøhetta designed a unified building with curves that wrap around the two domes of the planetarium's projection room and observatory. 'The architectural and urban concept of our project takes its inspiration from the elliptical movement of the stars,' explains Kjetil Trædal Thorsen, co-founder of Snøhetta. 'Being continuous, fluid and perpetual are notions that we have reinterpreted in the project, not only in terms of the shape but also in the experience that visitors will have of the planetarium, all senses employed.' This concept of continuous movement defines everything from the reception area and exhibition spaces, to the amphitheatre and domes of the building.
The outdoor space has two distinct features: a surrounding landscape and an interior courtyard. The landscape is designed to promote biodiversity, and integrates what existed on the site, while the garden has a continuous pathway that connects various outdoor spaces to the building. The path is paved with natural bluestone from Belgium, providing an additional layer of texture and visual expression. The roof of Orionis is planted with wild grass, creating a natural and organic element that is highly visible inside the building. A slightly inclined interior ramp is visible from the outside through the building's partly translucent façade.
Sustainability played an important role in the design of the project. Geothermal energy supplies heating for the building during the winter and cooling during the summer. Sensors installed on multiple openings allow for intelligent natural ventilation, while sunshades and the green roof contribute to a responsible regulation of the building's temperature and rainwater.
The project employed the joint efforts of engineering firm CET Ingénierie, architecture and sustainable development consultants Impact Conseil et Ingénierie, engineering consultant Cicanord, acoustical consulting firm Studio Dap, and Atelier Silva Landscaping.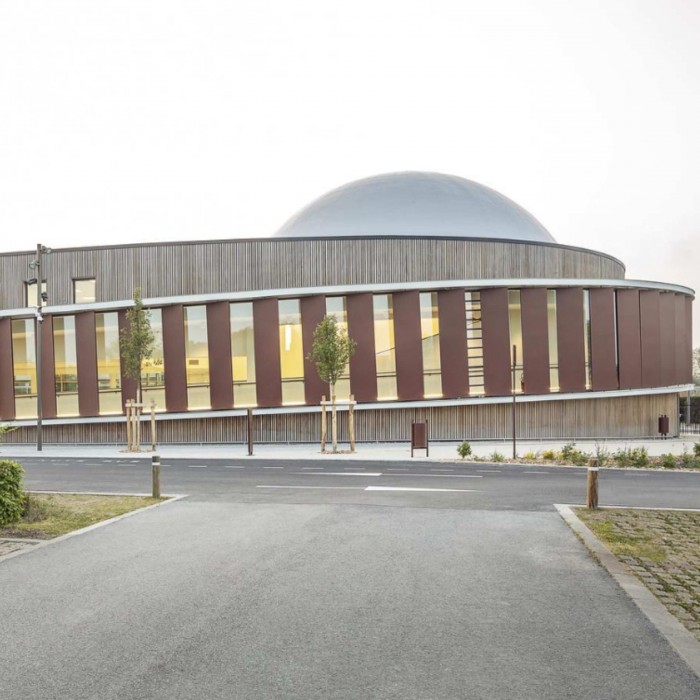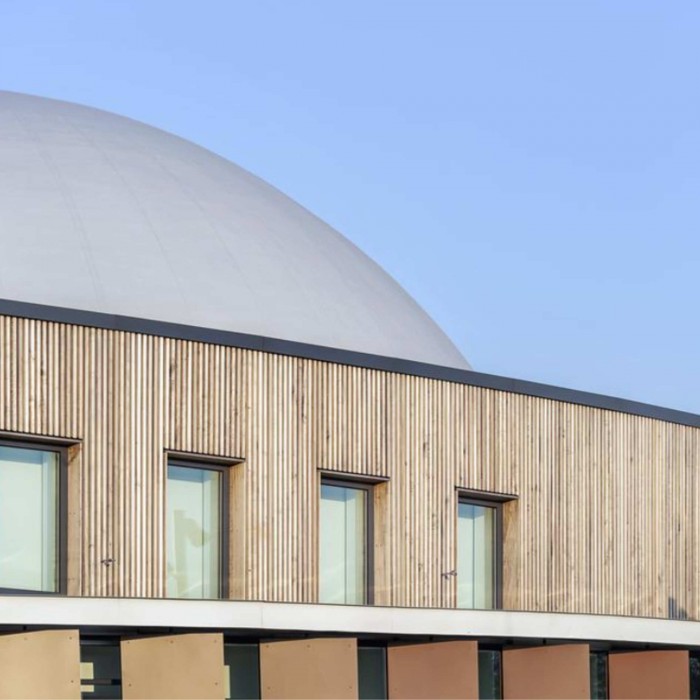 Read more
Photographs: Jad Sylla.