'À Table', the 2023 Serpentine Pavilion, opened to the public at Kensington Gardens in central London on 9 June. Its creator, multiple-award-winning humanist architect Lina Ghotmeh, was inspired by the 'French call to sit down together at the table to share a meal and enter into dialogue'.
'À Table' is a circular timber structure designed to inspire lively discussions and meetings. In order to foster this sense of gathering and community, Ghotmeh has centred the pavilion around a communal table, with accompanying wooden seats expertly crafted by renowned design firm Conran.
With a strong emphasis on sustainability, her Serpentine Pavilion exemplifies Ghotmeh's dedication to utilising sustainable materials and designing spaces that harmoniously engage with both the historical context and the natural surroundings of a location. Its form responds to the shape of the park's tree canopies, and the pleated roof is inspired by the structure of a palm leaf. The internal wooden beams that encircle the perimeter of the structure emerge as thin tree trunks, and the fretwork panels that sit between them feature plant-like cutout patterns, aiding ventilation and allowing in natural light. The modest, low roof takes inspiration from the toguna, a structure found in Mali, West Africa, that is traditionally used for community gatherings to discuss current issues, and also offers shade and relief from the heat.
Serpentine Galleries' artistic director, Hans Ulrich Obrist, describes Ghotmeh's pavilion as a 'call to sit together, engage and participate in dialogue, and share food, forming intimacy. Lina says this deep exchange sustains life and produces new life, ideas and formations.'
In addition to the pavilion, Ghotmeh has curated an organic menu for the pavilion café, highlighting her commitment to exploring the environmental impact of our dietary choices. She emphasises that by altering our eating habits, we can cultivate new relationships with the Earth, acknowledging the profound influence our food choices have on the planet.
Each year, the Serpentine Gallery in London commissions a renowned architect to create a temporary structure that blends innovation, creativity and environmental consciousness. It has become an annual architectural highlight, captivating art and design enthusiasts from around the world. Previous Serpentine architects include South Africa's Sumayya Vally, Bjarke Ingels, Sou Fujimoto and Frank Gehry.
'À Table' will remain in place until 29 October 2023.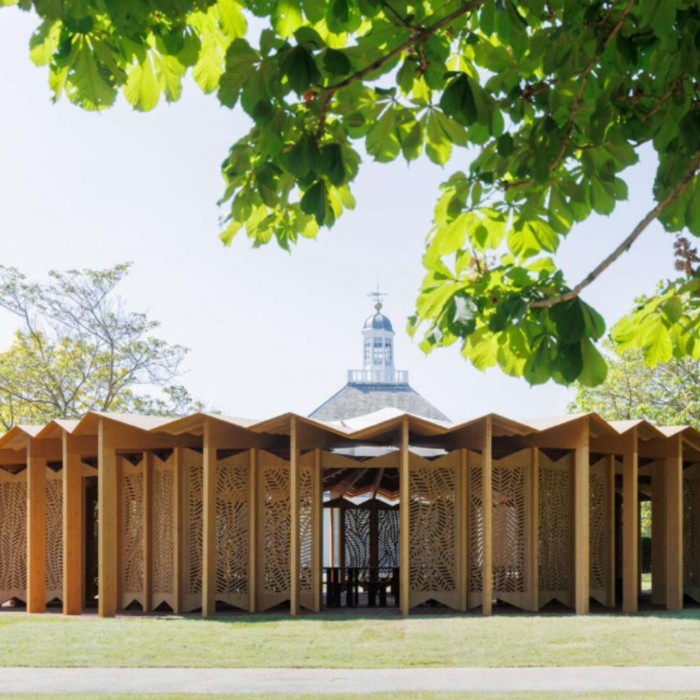 Read more
Photographs: Iwan Baan, Serpentine.