We caught up with Cape Town-born and Berlin-based multidisciplinary artist Robin Rhode, who talked to us about the thought process behind his memorable performance at this year's event.
Having spent the past fifteen years living and working in Europe, Rhode has spent his lengthy career dabbling in a variety of visual languages, including photography, performance, drawing and sculpture. For his appearance on the Design Indaba stage, Rhode envisioned a performance piece that would effectively translate to the audience his artistic process.
Strongly influenced by the concept of play, Rhode began toying with the idea of inserting a doppelganger into his work about six or seven years ago. For Rhode's DI presentation, artist Kevin Narain took on this role, acting as what Rhode terms the 'Shadow Self'. Affording the artist what he sees as a greater level of control over his imagery, it also allowed him a degree of voyeurism toward his own art, temporarily stripping him of artistic control.
While Rhode sees his doppelganger as bringing a certain rhythm and tempo to the work, he sees the process of drawing in much the same way. "When we combine that," Rhode explains, "Me focusing on the process of drawing and the tempo, and Kevin injecting another rhythm into that. I think the combination is a tour de force."
Watch the Talk with Robin Rhode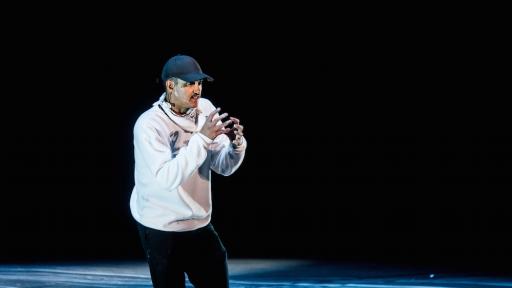 Talks
• Duration: 00:22:24
•
19 Oct 17