Download
options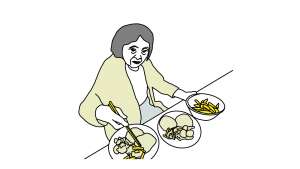 Download: What will food look like in the future, especially for the elderly
Click on a link to download the video file
Remember a time when design primarily existed to make things look pretty? Neither do we. Design has evolved to become a solution-driven industry to the world's maladies. And those differ greatly from place to place.
As one of the world's most developed nations, even the Japanese have their own unique problems. With a quarter of the population over the age of 65, Japan is the country with the world's largest proportion of elderly people.
The design implications of this now and in the future are manifold, but Keio University SFC graduate Hiromi Kimoto is most concerned about how this will affect the food we feed our ageing loved ones. The participatory designer opened her antenna talk with the question; "What do you want to eat in the future?"
The issue hit home when Kimoto's grandmother started losing the ability to chew and swallow the foods she once loved. This turning point got her thinking about alternate ways of producing and presenting food to an ageing population.
Coming from an inclusive approach to design, Kimoto employed a technique she calls collective dreaming as a starting point for her speculative project, Food in our Ageing Society.
Collective dreaming involved ideation workshops with the general public of people who would be elderly by the year 2035. These workshops made use of a card game that helped identify likely problems encountered by the elderly alongside the potential food technologies that would be available by then.
Through engagement with these "expert citizens" Kimoto was able to develop food products specifically designed to address the needs they collectively established. From 3D-prinetd gummi bears to balloon meals, she details these in her talk along with the ways these new products will enhance the life of the aged in the future.
As a speculative exploration, the project may not present the right solution, but Kimoto hopes to encourage people to start thinking about the future in a more humourous and positive way.
Here's more talks from antenna 2018:
Could the heat generated by blockchain be useful for other living beings?
Basic Income Cafe is a uses coffee as a metaphor for the flow of money