Download
options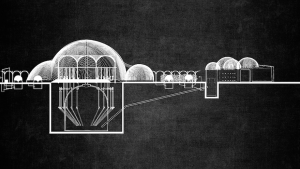 Download: Ukubutha: A township hub powered by smart architecture and green tech
Click on a link to download the video file
Ukubutha is a project that looks at the township setting from the perspective of a resident who is empowered to be self-sufficient and unhindered by the slow or non-existent progress of government service delivery.
Its creator, Nicole Nomsa Moyo, was born in Zimbabwe but raised in South Africa. Now a design graduate in Canada, her thesis project called Ukubutha is a reflection of her multinational experience. Her project looked at people's needs in Mamelodi, a township in Pretoria, South Africa, which was built by the then Apartheid government.
Like numerous townships erected by the now defunct racially oppressive regime, Mamelodi is underdeveloped. Many of its residents lack basic services such as water, sanitation, electricity and safe toilets.
Of Zulu descent, Moyo began by looking at the round huts that her ancestors once built, and found a form from which to conceptualise a solution to the lack of service delivery in areas such as Mamelodi.
Ukubutha, which means 'to gather', combines modern, green technology and ancestral African architecture to create a township hub. The meeting place provides a safe environment, clean water, solar energy, on-site fabrication and recycling.
"[It's] a space that can be used by people and they will be empowered by it, and architecture will do most of the work," she explains in her talk.
Her concept, while still in a developmental stage, looks at a way to provide people with dignity, self-sufficiency and the services they need. Powered by waste and the environmental energy sources, Ukubutha could allow township residents to take their living conditions into their own hands.
"It's not just about giving people things," she says. "We need to think about the community's well-being as designers. We need to think about the political, cultural and environmental implications of what we design."
While it was based on the township of Mamelodi, Moyo believes her project can be replicated all over the world.
Moyo presented her project at the second antenna conference at Dutch Design Week in October. The conference was Conceptualised and curated by Design Indaba and saw 20 design innovators take to the stage.
Recently, a talk by another young designer, Felix Ros looked at the future of mobility. Specifically, the intersection of autonomy and collaboration in the future of driving.
More on antenna.
Read more:
Scribble is a touch-activated joystick for semi-autonomous driving
The Final Five: antenna 2018 is right on our doorstep