Download
options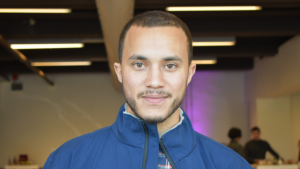 Download: Turning refugee bunkers into privacy pods using minimalist design
Click on a link to download the video file
Sometimes a solution to a great problem starts with making life a bit more dignified for the people involved. Graduate designer Iskander Guetta's project Abri+ is a simple collection of objects that together create a small home for some of the most vulnerable people in the world, refugees.
As refugees enter Switzerland, they're often housed in underground bunkers. These bunkers were built to keep people safe during wartime. Now, the bunk beds that line the narrow corridors are packed with refugees. These men and women are experiencing war, conflict and poverty in their birth countries.
Short-term, this sounds like a good solution to the issue of space and the undignified state of many refugee camps around the world. But over time, their living situation becomes unbearable. Their quarters, says Guetta, are sometimes smaller than those afforded to prisoners in prison cells.
He started to design a solution based on what was already there - the rows and rows of bunk beds .
"I tried, by using the standard bunk beds that are all the same around Switzerland, to create objects that would provide more comfort and more convenient space for them to live in," he told the antenna audience during the conference this past October.
Abri+ is a curtain, a hanging storage solution and a personal light.
"I hope that by creating these simple objects for this problematic situation, I will provide them with this human need of privacy and safety," he says.
Watch his full talk above. Guetta was chosen among 19 other graduates from all over the world to present ideas that address problems we see today, and shape the way we live in the future. Curated and co-produced by Design Indaba and co-produced by Dutch Design Week, antenna is a global scan of the world's future designers.
See more of their 2018 talks below, and keep an eye out for what's to come
Putting service delivery in the hands of the people
Meet the design graduate who created her own coffin
What will food look like in the future, especially for the elderly