Download
options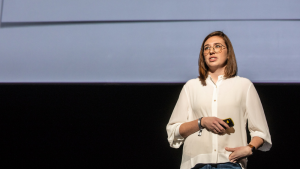 Download: #MeToo: Global Grad Ellie Frymire makes sense of the iconic movement
Click on a link to download the video file
In October 2017, we watched the rise of a global social justice movement erupt on Twitter. #MeToo garnered over 1.3 million tweets within months.
People from all walks of life took to the platform to detail their experiences of sexual harassment on the streets, in the workplace and at home.
It undoubtedly created a global community as people came together in support of one another and in support of change. But that's not all there is to it.
Design graduate Ellie Frymire wanted to know what people were really saying with #MeToo. What groups, themes and topics had formed within the parameters of the hashtag to make up this social phenomenon.
To understand the movement's growth and underlying factors, she turned to K-means clustering analysis. In data science, k-means clustering uses unsupervised machine learning algorithms to make inferences from data sets.
Simply put, the method uses an algorithm to find groups and patterns within a set of data. So rather than fitting the data into predefined groups, clustering allows you to find and analyse groups that have formed organically.
In her project, Frymire sought to uncover and illustrate the layers that make up meaning in #MeToo.
"A tweet is not just a number," she says. "Let's say that one tweet is one circle and if in that tweet you use the words 'Trump' and 'Republican', it is likely to be grouped with other tweets that use words like Clinton and democrat.
"The important thing to know is that the algorithm did not know these were political tweets but based on the words within it knew that they belong together."
In total, Frymire discovered 425 clusters. She then conducted a qualitative analysis and identified 5 major themes: politics, workplace, anger, conversation and uplifting.
For instance, she discovered that the word 'power' came up often in tweets about sexual assault in the workplace.
"I think a core tenet of the movement is the abuse of power and these tweets included both stories about abuse in the workplace but also conversations about how the workplace was changing," says Frymire.
Frymire illustrated her findings on an interactive webpage. By hovering over the groups she identified, users can read the stories and learn more about the various clusters.
"To me, this movement is not done and never will be done. Not only is the #MeToo movement continuing to grow and expand with new allegations and stories but our ability to understand digitally needed social movements is growing every day."
The #MeToo movement has helped many men and women come forward in the last year. It has not only exposed the abuser but it has also validated the experiences of victims.
Frymire presented this project during the second antenna conference at Dutch Design Week, which was curated by Design Indaba, as well at Design Her presentation at the latter will be released here soon.