Download
options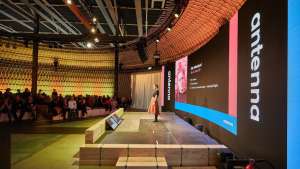 Download: Inclusive, human-centred furniture for the disabled
Click on a link to download the video file
Ella Westlund is a Swedish design graduate who creates furniture to include people with disabilities.
She opened her talk at this year's antenna conference with an image of what she calls a typically Swedish family. What she highlighted here was the close bond she shares with her only sister who has Down's Syndrome. This relationship had a huge impact on her work as a designer.
The Beckmans graduate says that her sister's condition taught her very early on "the importance of understanding every single person's unique language."
Within that context, she'd also become aware that most furniture products were not very well-considered for different types of users. For example the chairs she'd encountered were made cold metal, plastic or other cheap materials.
It was during her time spent at Korallen, a centre designed to stimulate the senses of people with disabilities, that she was inspired to create her own furniture range, Be A Part Of.
While spending time there she noticed that most of the children at the centre were in wheelchairs and they were constantly moved around. In addition, parents needed a place to sit close to their children.
So she set out to design a modular sofa specifically made for wheelchair users and their loved ones. Made of wood and wool, and in typical Scandinavian aesthetic, Be A Part Of puts the wheelchair user at its centre and makes provision for seating on either side.
The space in the centre is designed to have wheelchairs easily roll in and out, and when it's empty caregivers have the chance to speak to each other face to face.
The range has been acquired by a Swedish furniture brand with production to commence by the end of 2018.
antenna is an annual scan of the world's most innovative young design thinkers, hosted by Dutch Design Week and curated and conceptualised by Design Indaba.
Here's more talks from antenna 2018:
Could the heat generated by blockchain be useful for other living beings?
Basic Income Cafe is a uses coffee as a metaphor for the flow of money
Understanding #MeToo with machine learning