Download
options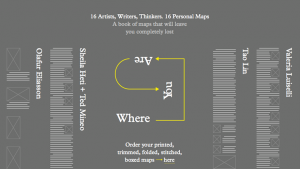 Download: Trailer: The Workers on the power of digital interactions
Click on a link to download the video file
"We love digital technology, and challenging digital technology in challenging ways."
London-based digital design duo Tommaso Lanza and Ross Cairns created their studio, The Workers, after meeting at while studying Design Interactions at the Royal College of Art. They were reluctant to pigeonhole their services by being too specific with their talents:
"We wanted to keep the doors open. So we became serial collaborators," says Lanza.
As digital creatives, the Workers like to challenge expectations of what can be done in the digital realm. They are constantly working with technology and know exactly what opportunities are out there. So if you want to work with them, here's what they advise:
"Please don't have assumptions of what is and isn't possible," says Cairns.
The Workers have been behind the scenes (behind the screens?) of several mind-blowing projects. The first involves an interactive website that brings to life 16 essays by famous writers, thinkers and philosophers. The collection is called Where You Are, and each essay is told within the frame of a map, but not in the sense of ordinary cartography. Cairns and Lanza decided that their web version of the book would become the seventeenth story in the collection: it would tell the story of the data that surrounds a website's launch and lifetime. Beautifully visualised, their website visually maps the live interactions of users round the world.
The project The Workers are probably best known for is their robot invasion of the Tate Britain in August 2014, After Dark. Four specially designed robots were set loose to view the Tate's mammoth collection after the gallery had closed. Members of the public could log onto the After Dark website and queue to drive one of the four robots.
"When you get to work in a museum after hours you get to rediscover the space," says Lanza. "We really wanted to try to communicate this feeling. We made the whole thing very user friendly."