Download
options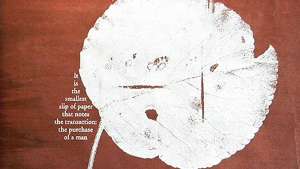 Download: Trailer: Tia Blassingame on the texture of racism in the United States
Click on a link to download the video file
When Tia Blassingame arrived in Rhode Island she began collecting autumn leaves and imaging the many slaves who might have seen the leaves from those same trees changing colour many years ago. Feeling moved by the thought that these leaves were perhaps not all she had in common with the slaves of early modern America, Blassingame began a project that would engage readers in a conversation about race through playing with their senses.
Blassingame screen-printed receipts and accounts from slave ships onto the leaves.
"Brown inks that represented the colours of the autumn leaves and the skin colour of the slaves," says Blassingame.
She then made a golden headscarf that was printed with images of these leaves and words, to investigate how the wearer might carry herself, knowing that she was wearing words from a slave receipt.
I made a headscarf that talks about the accumulation of wealth through slavery, as the black body as gold but also seeming worthless.
Blassingame's projects took even more modern relevance when she began to write poetry that expressed her outrage and sadness over the deaths of black citizens at the hands of US police.
Blassingame presented her work as part of the Design Indaba Global Graduates at the Design Indaba Conference 2015.
Watch the Interview with Tia Blassingame