Download
options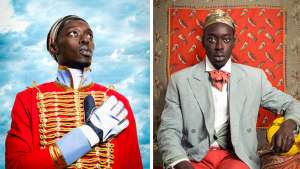 Download: Trailer: Omar Victor Diop on the tradition of portraiture in Senegal
Click on a link to download the video file
Born in Senegal as the last child of six to an accountant and a lawyer – Diop naturally followed the path to a "respectable" career. He studied finance and worked in the corporate world managing investor relations. But Diop felt that something was missing: "I didn't have the drive and I didn't have a purpose."
On a whim, he picked up a camera and found a new purpose through his lens. Diop shared his early photography on social media networks, and before too long private curators and photographers were rapping at his door urging him to create more work, and so he did. He shot his first series, "The Future of Beauty", in his apartment using a curtain as a backdrop. This DIY approach has become a characteristic aspect of Diop's process.
Watch the full conference talk
Diop's work is not born of a vacuum. He lists influences from the literature, music and art of Africa and the African diaspora: Leopold Senghor, Cheikh Anta Diop, Soul Train, Michael Jackson, Grace Jones photographed through the eyes of Jean-Paul Gaultier, Youssou N'dour, the Mahotela Queens, and Touki Bouki, the first African road movie.
"These are the things that help us [Senegalese people] figure out the role we are supposed to play on this planet, in this whole human experience," says Diop.
The photographer explores what his role on the planet may be through his latest work, "Diaspora", which is a collection of rich and ornate self-portraits that bring otherwise forgotten historical African leaders to the fore. In the collection, Diop recreates portraits (painted between the 16th – 19th century) of African leaders who were influential in European society.
"I thought I would give my flesh and blood to them in an attempt to gift them and invite them into the current conversation about race relations and the contribution of Africa to the rest of the world," says Diop.
His work blends traditional African style with contemporary influences to make a strong statement about Senegal, further complicating the notion of an African aesthetic.
Watch the Talk with Omar Victor Diop