Watch the Trailer
Watch a short trailer to get a taste of this conference talk.
Download
options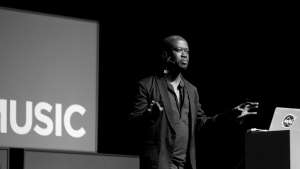 Download: David Adjaye on evolving typologies in architecture
Click on a link to download the video file
Interested in responsive architecture, much of David Adjaye's work questions new modes of construction and life. At Design Indaba Conference 2013 he gave insight into the fundamental principles of his practice Adjaye Associates.
In 2000 Ghanaian-born architect Adjaye formed his design practice Adjaye Associates, which is dedicated to extensive research manifested in publications, experiments in product, furniture and emotive design, the evolution of residential typologies, and public buildings in their widest form.
Adjaye Associates' central concern is the way in which architecture now has to respond to the changing world, the responsibility to the public realm, and how the act of making matters and shapes the lives of people inhabiting the space, says Adjaye.
Believing that geography plays a fundamental role in architecture, Adjaye spent 11 years in Africa documenting the continent's architecture in order to get a sense of what the continent needs today. As geography, culture and place are inextricably linked, Adjaye proposed to move away from political architecture towards a geographical one showcasing how geography and place binds inhabitants; "I want to move away from South African architecture or Ghanaian architecture to forest, mountain and desert architecture", he explained.
As natural disasters are happening more frequently around the world, Adjaye suggests that if architecture is relevant to its geographical position it can adequately respond to the fragile ecology. Giving an example of new architectural typologies in the form of flood-proof houses in New Orleans, he highlighted how design and architecture is required alongside mechanisations to create responsive structures that are more than just homes and enclosures.
I like to take on housing projects that question new modes of life and construction in order to express humanity and create a place that is human, says Adjaye.
Adjaye further gave insight into five projects his practice has undertaken: The Sunken House, a zero-carbon structure that is completely prefabricated in a factory. Carriage House, a home that uses the urban planning of New York City as its inspiration. Francis Gregory Library, a powerful and emotive space that binds light, space and structure. Moscow School of Management, his biggest project to date. Smithsonian in Washington, a museum that will represent African-American history and finish Charles L'Enfant's master plan 200 years after is proposal.
Watch the Interview with David Adjaye