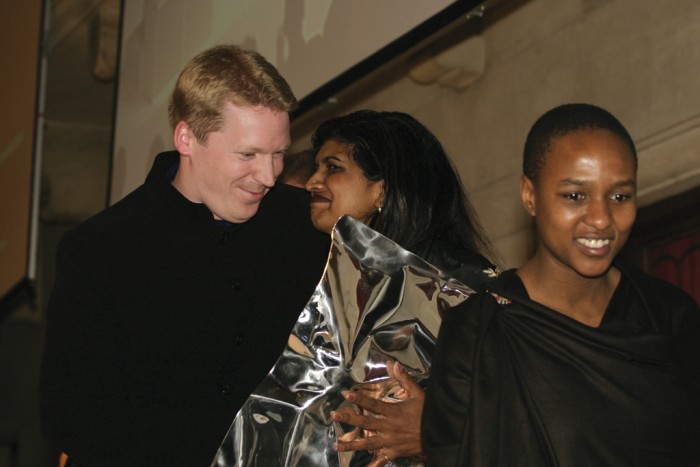 The three-day summit gathers 25 of the world's leading innovators from business, politics, science and the arts in order to set out specific recommendations on how to address human needs.
Their approach? To use the methods of the world of design.
The INDEX Design Awards form part of this summit and they celebrate design that improves and enhances people's lives. The Awards are made in five categories. Notably, South Africa featured in the Community category, where an award was given for a design which focuses on human needs in South Africa.
Category: Community
Winner: Architecture for Humanity - design by Cameron Sinclair and Swee NG, USA
Background: Somkhele, located in KwaZulu-Natal, has one of the highest rates of death from HIV/AIDS in the world. South Africa's Medical Research Council estimates that HIV/AIDS accounts for 42% of all deaths in this region. In spite of the ghastly figures and frequency of the disease, people infected with AIDS in the area are still stigmatized and the need for proper health-care facilities and places of information and education are in high demand.
The Siyathemba competition designed by Architecture for Humanity challenged designers and architects to incorporate the game of football into a programme geared to disseminating information on HIV/AIDS prevention and treatment, and to act as a service point for mobile healthcare for youth in Somkhele.
Award-winners in the other 4 categories included:
Category: Body
Winner: LifeStraw - design by Torben Vestergaard Frandsen (Denmark), Rob Fleuren (Holland) and Moshe Frommer (Israel)
Background: Brings clean water to people in the third world on an individual level, making people less dependent on others for safe drinking water.
Category: Home
Winner: Softwall - design by Stephanie Forsythe, Todd MacAllen, Canada
Background: The paper (or textile) softwall dynamically partitions large open rooms and spaces into more intimate and personal surroundings of any shape.
Category: Work
Winner: Observatorio Iberoamericano para la Artesanía - design by Fundación Española para la Innovación de la Artesanía, Ministry for Industry, Tourism and Commerce, Spain
Background: The Foundation designed a strategy, network and website focused on improving life for craftsmen in Latin America whose livelihoods are threatened by globalisation.
Category: Play
Winner: Apple iTunes, iPod - design by Apple Design Team, USA
Background: iPod together with Apple's iTunes software is truly changing the way people experience their music. iPod allows a music fan to have their entire music collection with them anytime, anywhere.