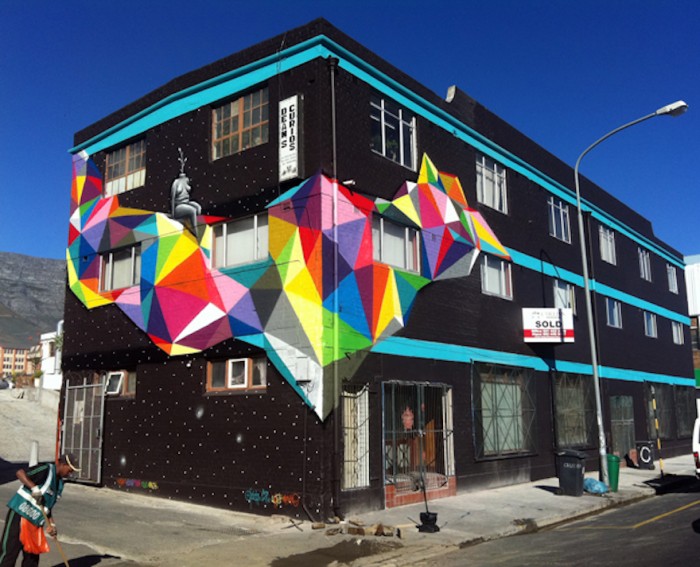 A short trip to Cape Town, South Africa, to see a friend while on assignment in Johannesburg, resulted in one of the most iconic murals in Woodstock's Albert Road.
By Spanish artist, Okuda San Miguel, the mural that hugs the black wall outside Side Street Studios is an explosion of geometric colours. In a recent interview with Design Indaba, Okuda explained that he had initially been in South Africa at the invitation of the City of Gold Urban Art Festival in Johannesburg where he painted a wall with German artist, Case.
The Cape Town mural was because his friend, Faith 47, had a studio in there and he thought it would be a fun project. But he is no stranger to the continent having painted in Mozambique, Morocco, Mali and Cape Verde Islands.
His distinct style, which he describes as pop sub-realism, developed while painting letters in his hometown, Santander, back in 1997. But it was only after studying fine art at the University of Madrid in 2000 that he started polishing his style of geometric prints which often feature human-like characters.
Although he has travelled the world through his art he rates New York and Tokyo as his favourite cities to work and live.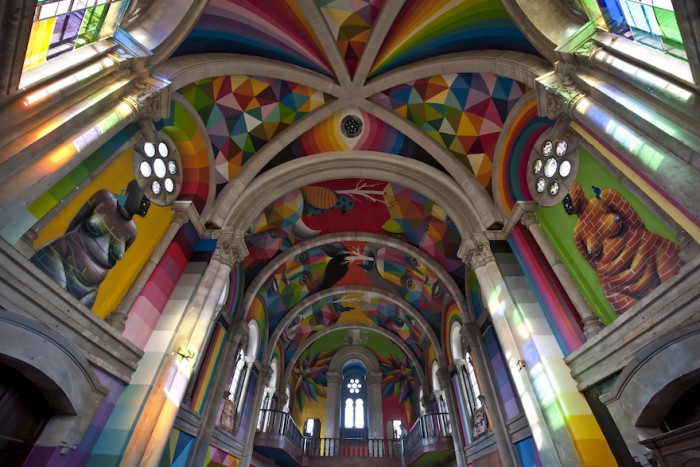 His artworks range from public sculptures to painting the inside of a 100-year-old church in Spain to working on buildings that go up to 20 floors high. The luxury of moving between the studio and working outside means that his work exposes him to audiences from all walks of life. But, Okuda says, with murals you can see people's reactions almost immediately because of where he paints.
"I feel that my real work is to transform grey cement and degraded buildings into a special, unique, multicoloured place that contributes to changing people's lives in a more positive way. I saw it happening in some places and felt something incredible." He says that when he painted an abandoned church in Morocco, he found it heartwarming how Muslim people would come watch him work and take pictures with him.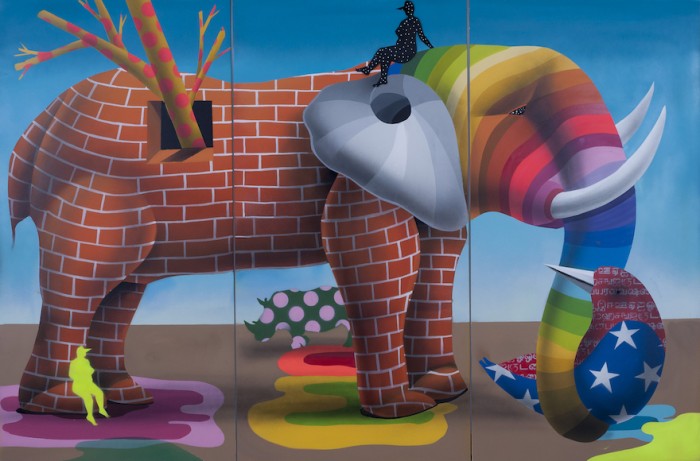 "I learned how art is the only religion that erases the borders between cultures, social levels, religions or genders."
But finding spaces to paint in big cities like Madrid, where he lives, is hard.
"The most controversial thing is that my worst place to work or get spaces to work is my city, Madrid. We need a change in the institutions and politicians. When I was younger I found quiet places to paint out of the city centre. I looked for walls in abandoned factories and lost railways."