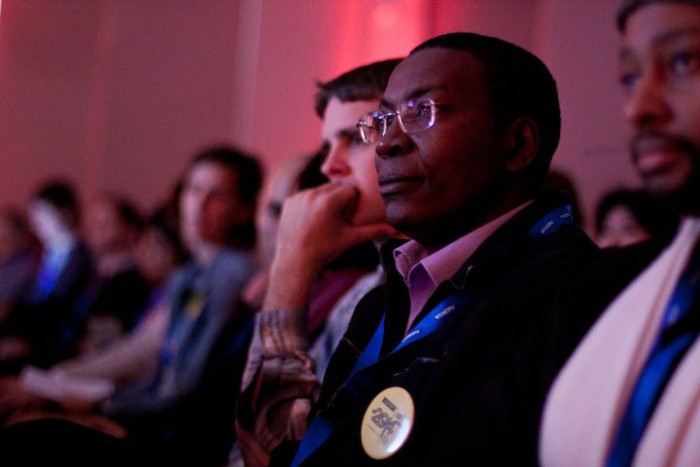 Mugendi M'Rithaa is president-elect of the board of the International Council of Societies of Industrial Design (Icsid). Photo: Johann Swart.
Being a designer, Mugendi M'Rithaa finds a pleasing symmetry running through the three milestone events that have shaped his career.
The first took place over two days: the moon landing in 1969, which he witnessed as a boy living in the United States while his father was on a scholarship and which ignited his passion for technology.
The next took place over two years: a Commonwealth Scholarship from 1991 to 1993 to study his master's in industrial design at the Indian Institute of Technology in Mumbai, which cemented his interest in socially conscious design.
The third took place over two weeks: his participation in a workshop in Pretoria in 1999 to develop solutions to water-related challenges, which awoke an interest in participatory design as a way to solve problems with local communities' input.
The workshop, a transcontinental initiative involving designers in Mexico, Australia and South Africa, was endorsed by the International Council of Societies of Industrial Design (Icsid). It set in motion a chain of events that is still unfolding in M'Rithaa's work as a designer, educator and researcher. He joined Icsid's executive board in 2009. The only current board member from Africa, he is a steady voice for greater geographical representation and the inclusion of socially responsible design in the body's mandate.
Icsid is a powerful platform for the global design industry but Africa wasn't initially considered important enough as a region to reach out to, says M'Rithaa.
"Most design firms in Europe and the US initially focussed their efforts in the realm of socially responsible design on solutions for Asia," says M'Rithaa, who teaches industrial design at Cape Peninsula University of Technology (CPUT) in Cape Town and is also a curator of Design Indaba Expo. "These were mainly projects promoting design for 'extreme affordability' such as low-cost housing, cooking stoves, sanitation solutions and allied products."
M'Rithaa is well-placed to have an impact on Icsid's mission as he takes up his position as president of its board towards the end of 2015.
"Icsid recognises that it needs to have a presence in every part of the world to promote and protect the profession of industrial design globally, whilst concomitantly demonstrating how the organisation practically contributes to 'design for a better world'," he says. "I hope to be part of the solution by articulating an authentic and inspired understanding of Africa's vision, passion and aspirations. That's what I hope to bring to the dialogue – and hopefully in a manner that acknowledges Africa as an equal partner and participant in co-creating an inclusive and sustainable future for all our people, by design."
Africa itself is partly to blame, he says. "We often haven't been cohesive and coherent enough... Having conceded that Africa has been part of its own problem, it is now time to articulate our own vision and advance a more nuanced design discourse."
Kenyan by birth, M'Rithaa is a connector among Africa's design communities.
He has taught at and helped launch the industrial design programmes at the universities of Botswana and Nairobi (also helping to start the interior design programme at the latter). He is a founding member of the Network of Africa Designers (NAD), which was initiated in 1999 by his mentor and predecessor on the Icsid board, Adrienne Viljoen, as a platform for designers on the continent to exchange best practices.
"Africa is a complex and massive place, and there have been challenges in getting NAD to spread its reach and have a meaningful impact," he says. Its most active members have been academics rather than design practitioners.
"When you start teaching or practising as a designer you hold on to this noble ideal that design can change the world," M'Rithaa says with a wry chuckle.
The network is now in 12 countries in Africa – it has taken us a while to get this far and we're hoping to get committed representation from Francophone Africa in the foreseeable future, he says.
There is a bedrock of support in East and Southern Africa - "the challenge is finding committed individuals," he adds.
"It is not a sprint but a marathon," the professor concedes. "In Africa, one must nurture a long-term commitment and perspective. I truly believe that by 2020, Africa's potential and place in the geopolitical sense of this conversation will have gone mainstream the world over. We need to build the right infrastructure and resilient public institutions – it's not merely about systems and logistical and strategic imperatives, but people who are committed to this enlightened vision."
While M'Rithaa has been a consistent voice for inclusive design – his doctoral research focused on universal design, which seeks solutions usable by the widest cross-section of people – he has emerged as a more vocal harbinger of social change in the past couple of years. He helped with Cape Town's bid for the World Design Capital 2014 title and says the addition of WDC's open-source yellow logo for grassroots projects to Icsid's proprietary black logo for endorsed "signature events" is a positive development.
"This resulted from Icsid's willingness to be more responsive to our context, and in so doing support our socially transformative design efforts," he says.
We have far too many wicked problems to design 'for design's sake'. We have to engage with the problems that we're surrounded by constantly, M'Rithaa adds.
"It is about design for, and with, society. Designers who ignore the plight of our local communities risk becoming irrelevant to their collective aspirations in the long run."
He sees "some successes and many challenges" still facing the Cape Town design community during this year of heightened activity. He is wary of political efforts by policy-makers to reduce design to its economic impact. "It is more sustainable to create awareness of what designers can do, which will in turn generate demand for their services and ultimately create jobs. Design has a proven multiplier effect – money invested in design services ultimately contributes towards socio-technical development and economic growth in myriad other sectors."
Powerful design speaks for itself, he believes. He points to the moon landing as an example – the actual event lasted for a short time but it lived on in his young boy's mind. "My own fortune cookie wisdom to young designers is not to worry about longevity but impact. I tell my students 'Don't think how long you do something for, but in how well-grounded and authentic your intent is.'"