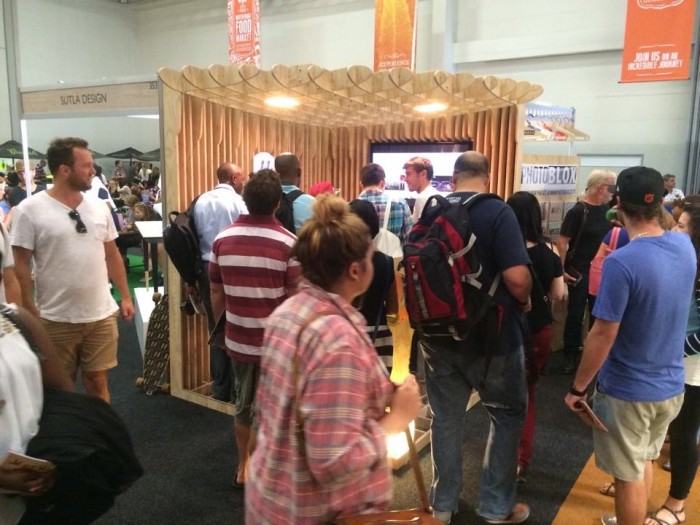 JesseJames at Design Indaba Expo 2014.
What was the concept for the stand at Design Indaba Expo 2014?
#freeideashere was the activation concept behind the JesseJames stand. The activation itself included a free service to take expo-goers ideas and prototype them using a lasercutter on the stand. The person walks away with a piece of design that they were involved in from idea, through process, to final product.
The concept was to illustrate our service as designer-makers, whereby we take your ideas and do the necessary creative direction, research and concept resolution to turn the idea into a reality. Then we mange the process of getting the resolved idea made.
Tell us about the stand design and structure.
To distinguish ourselves from the rest of the stalls we decided to do what we do best and design our own piece. The structure, made entirely of wood employed our signature style of pushing possibilities of materials through the use of technology. We designed the piece using digital 3D modelling, from which a set of plans were generated for the computer-aided Rrouting machine to cut the 60+ components with sub-millimetre precision.
The end result is an interlocking lattice like structure, which seamlessly integrates into the vertical member's of the wall, and is mirrored beneath the clear polycarbonate floor.
What was the experience of exhibiting like?
This was our debut experience at the show, and we had been plotting for the past three years to come in with a bang, so we were naturally excited for the experience. We enjoyed it thoroughly, and because we were giving away functional design pieces, which the fascinated visitors could watch being made right in front of them, we were constantly being buoyed by the reactions of the grateful recipients of the "free ideas".
What sort of feedback and interaction did you have with Expo goers?
Excellent feedback, most users were inspired by the experience, and frankly surprised. One of biggest responses was that people wanted to see more of these kinds of activations. It was also a great opportunity for us to showcase our capabilities to existing clients and the various role players who helped us get to where we are today, besides of coursing prospecting new bespoke design opportunities.
What is next for JesseJames?
Our studio/workshop is bursting with creative projects we're unleashing soon. You can expect to see educational playgrounds, mobile medical laboratories, a seat that floats, lego-like Simcity blocks for community-driven town planning, creative agency spaces, minimal computer fabricated furniture pieces, responsive walls and much more.