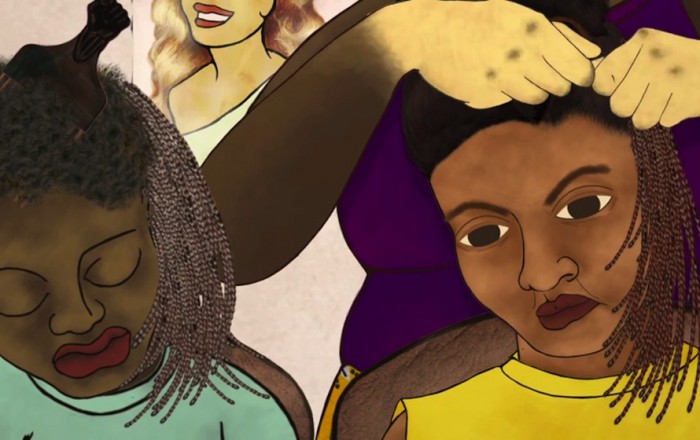 Still from 'yellow fever', animated with mixed mediums
Designboom attended the annual Design Indaba conference in Cape Town which showcases how design, creativity and innovation can positively impact the world. The line-up of international speakers hail from a range of sectors, sharing their expertise and experiences.
One of this year's conference speakers is Kenyan artist and animator Ng'endo Mukii, who interweaves the history and heritage of African identities into highly-textured and compelling films. Her critically acclaimed short film 'Yellow Fever' considers the effect of mass-media created ideals and the concept of skin and race — specifically on African women — and the difficulty in attaining distorted standards of beauty. Memories and interviews with family members constitute the mix of drawing, painting and real footage collaged together for deeply personal animation, which has gone on to garner a long list of accolades.
Mukii's original interest in illustration is evident throughout her video and animation work: she paints and draws in and on to the film, contributing to a striking, handmade quality that adds to the character and personality of the piece. Mediums ranging from traditional hand-drawn to computer-based design is adapted to each project, depending on the content being explored. 'Desert haze', for example, uses animated paintings to generate a dizzying effect of people, animals, who await the promise of ritual heat.
Watch the Talk with Ng'endo Mukii