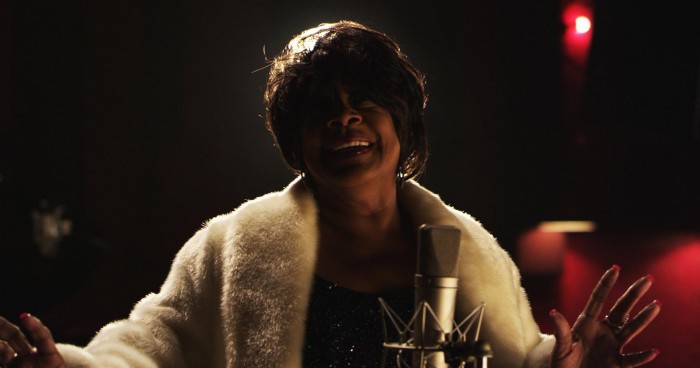 In a career devoted largely to films about music, Morgan Neville has directed or produced documentaries about acclaimed performers as different as Ray Charles and Iggy Pop, and James Brown and Brian Wilson. But it took "20 Feet From Stardom," his examination of a group of predominantly black, female backup singers known only to the kind of obsessive music fan who reads the fine print on the back of CD covers, for him to earn his first Oscar nomination.
The original idea for a film about backup singers came from Gil Friesen, a music business executive who was president of A&M Records for many years; he died in December 2012, a month before "20 Feet From Stardom" had its world premiere at the Sundance Film Festival. He approached Mr. Neville, who quickly became fascinated by the talent and the struggles of Darlene Love, Merry Clayton, Lisa Fischer and others who provided background vocals on some of the most celebrated pop recordings of the last 50 years but remain all but unknown to the general public.
"As much as music films should be about music, they should be about something else, too," Mr. Neville said in a recent telephone interview. "In the case of this film, you can talk about gender and race and economics, because all those things are part of these women's lives. But ultimately, I think this ends up being about how you make the best of the life you have instead of the life you dreamt of having. "
Thanks to "20 Feet From Stardom," some of the singers are now experiencing belated career revivals. To Mr. Neville's delight, as he made clear in the conversation, many are also eagerly planning to attend the Oscars ceremony on March 2, hoping for a turn on the red carpet after years of singing in the shadows. Here are edited excerpts from that interview:
Q.
How did you find your way into this overlooked corner of the music world?
A.
Gil said, "I think there's a good documentary to be made about backup singing." I said, "As much as I know about music, I don't really know much about backup singing." Then I asked him "Why do you think that?" and he answered "You have to figure that out. Show me there's a good idea, and we'll make it."
That just intrigued me as a music fan. So I spent three months doing oral histories. I interviewed 50 backup singers initially; ultimately we interviewed 75. I just said, "Tell me your life story." I talked to people who sang with Beyonce, James Brown, from the entire spectrum of backup singing. It was really me listening to them and figuring out what were the themes and the characters that led me to make the film that I made. So really, in a way it's a piece of reportage.
Q.
You've made a lot of films about musicians who are household names. How was this one different?
A.
If you're making a film for the Rolling Stones or Pearl Jam, there are a lot of politics involved. From a production point of view, the thing that is the greatest liability to being a backup singer became my greatest asset, which is that they had no power. Normally, when you are making a film about a band, you have a whole array of people with a vested interest in the film getting made. Nobody had a vested interest in the backup singer documentary getting made: no label, no management, no publishers, no artists. Nobody in the business was going to make a penny off the backup singers.
Q.
One thing that's notable in your film is that you have big stars, like Mick Jagger, Bruce Springsteen, Stevie Wonder and Sting talking about the importance of backup singers. Was it difficult to get the big names, or were they really eager to testify on that point?
A.
I'd say that all of them, pretty much to a person, initially said, "I don't know how much I have to say about backup singing," because none of them had really thought about it. But once I sat down with them, they had so much to say. Because nobody knows more about what the backup singers bring than the lead singer. Everyone I interviewed had a personal relationship with at least one of our characters; I felt that was important, that they weren't just talking abstractly about something. They were talking about people they knew and loved to work with. It was also important for me to keep them in the background as much as I could, so it doesn't feel like it's just a lot of famous people speaking bland platitudes about how great backup singers are. I was not interested in that. I was interested in my characters.
Q.
You're on record as having said about those characters that "just because you're not a household name doesn't mean you're not a diva." Can you elaborate on that?
A.
I've spent this last year on the road with these women, going to film festivals, doing shows, and I've gotten to know them so much more. I love them all, but there is a diva gene that a lot of these singers have. It's much more in check in the backup world, but that doesn't mean they aren't cut from the same cloth as Aretha Franklin or Patti LaBelle. It's the exact same people. The only difference between Merry Clayton and Patti LaBelle is a hit song. But for all the diva attitude I get, it's a part of their persona. It's not there maliciously, it's almost done endearingly. [Laughs]
Q.
A music documentary won the Oscar last year. Do you think that helps or hurts your chances? Or is it irrelevant in this year's race?
A.
The real answer is that I have no idea. But I don't see our film and "Searching for Sugar Man" as being all that similar. I think my film is a generational story about a whole group of African-American women's voices. It's not about going it alone. I mean "Sugar Man" is such a singular story of a totally unique artist, and I feel that mine is about a community, not a person.
Q.
Of the five nominees in this category, yours has done the best at the box office. Is that at all relevant in these competitions?
A.
Sometimes it hurts and sometimes it helps. Particularly for the more documentary-oriented awards, people don't feel like you necessarily need the help. Like in the trade awards, the IDA Awards [from the International Documentary Association], we didn't get any nominations. So I feel like in our own little community it's more of a liability, but in the broader world it's more of an asset.
Q.
This is your first Oscar nomination. Do you find the process stressful, or are you having fun?
A.
I'm a novice at this, but I'm loving it. As soon as we got nominated, Darlene said, "I'm already starting my diet for the red carpet." [Laughs] I think the idea of seeing all of them on the red carpet at the Oscars is just about the coolest vision I can imagine, just for all the crap they've had to deal with in their lives and careers, to end up in the unlikeliest of places, at the Oscars. Half my joy comes from watching them and how much they are enjoying it. It's a real-life Cinderella story.
You can catch the South African premiere of 20 Feet from Stardom at the Design Indaba FilmFest Drive-in. Get your tickets here.
This blog was first publised on 12 February 2014.