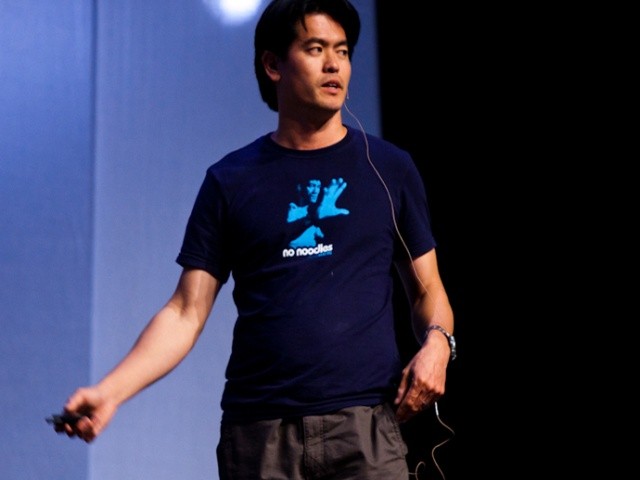 1. What makes you laugh out loud?
Besides the usual things that makes most people laugh, I would say seeing or thinking about my one year-old boy's big grin that only has two teeth and a big gap, which he loves to show off regularly.
2. If you had to live inside a work of art, which would it be and why?
As an architect, my first choice would be the Barcelona Pavilion by Mies van der Rohe, the greatest modernist architect who pioneered the way for all our glass skyscrapers and coined the annoying phrase "less is more". The Pavilion is so minimalist and Zen-like that I would require very little to live there, perfect choice in the current economic situation.
3. What is the best piece of design you've seen recently?
I have to say the work from BIG, lead by design rockstar Bjarke Ingels, whose work I have been following for a long time. For example their apartment block aptly named "The Mountain" presents a paradigm shift from the normal architectural approach, turning the age-old problem of providing parking for apartment blocks into a design potential. It's not surprising that they are considered to be one of the most influential architectural practices in the world. But what is more impressive is how Ingels has managed to archive all this at only 36 years of age.
4. What is your favourite book?
BIG's architectural comic book "Yes is more" comes to mind, but its not healthy to be envious of someone younger than me, so instead I will pick my recent favourite - the biography on 56 year-old Steve Jobs. The book is reassuring to me that I still have some time to "make a dent in the universe".
5. To which faults do you feel the most indulgent?
Curiosity is one fault that I indulge on a regular basis. I would spend hours researching ideas and projects that I am curious about, surfing the web for inspiration and stalking design hot shots such as BIG for insights.
6. What is the question you ask yourself the most?
Is this idea crazy enough? What if there is a better option?
7. Have you ever seen insanity where you later saw creativity?
The design process is a minefield between creativity and insanity. Albert Einstein defines insanity as doing the same thing over and over again and expecting different results each time... but unfortunately a typical process of design is about doing the same thing over and over again for the sake of perfecting an idea.
8. What would you save from your burning house?
Good thing I am involved with Urban Mosaic, a Design Indaba Your Street project that is researching how to stop the spread of shack fires, so hopefully this question will not be applicable in a few month time.
9. How do you deal with failure?
A good bottle of single malt scotch and some good old skop, skiet & donner movies usually does the trick - to be repeated until either the ego has inflated sufficiently or the brain cells are numb enough.
10. Do you have a creative muse?
Not currently. Hopefully when I can make as much money as Picasso with his paintings, I will be sure to have several.
11. What's your favourite gadget?
I am tempted to say something impressive, but the most honest truth is that without my Mac Mighty Mouse I will not be able to do anything.
12. Who in the world, dead or alive, would you most like to have lunch with?
Warren Buffet, Richard Brandson, or any Fortune 100 will do. I would like to find out from them how to make money in order to sustain my design hobbies.
13. Which qualities do you most admire in others?
A positive attitude with a proactive ability to make things happen. Cameron Sinclair, the founder of Architecture for Humanity, prints his job title as an "eternal optimist" on his business card.
14. What's one thing that you haven't done that you would still really like to do?
My ego tells me that I would really like to make enough money till I can afford a private jet, but the simple answer is that I still like to design children's furniture... and make enough money to own a private jet.
15. How do you know when a piece of design is complete?
When I don't wake up in cold sweat thinking I have either made a mistake or missed something crucial in the design.
16. Can creativity save the world?
Yes, I believe so, but it will only work if the other 90% of the population also believe the same thing, and the other 10% makes an effort.
17. What do you do on Sundays?
When I am not out surfing or playing with my children, I can be found stuffing my face at our regular family lunches or sleeping the food off.
18. Summer or winter?
Summer – one always hears of movies that are summer blockbusters, never winter blockbusters. It seems there are a lot more things to look forward to in summer!
19. What's the best creative advice you've ever received?
In my first year at architecture school, after working all night, wired on caffeine and sugar, I proudly presented my project to the lecturer for review. The lecturer, instead of offering some constructive criticism, rudely asked me to take "this rubbish away!". I promptly took the model outside and set it on fire. However the effect of the negative comment lasted as long as the fire. I used the opportunity to prove to others that I have what it takes to be creative. Hopefully this has shaken me sufficiently never to produce "rubbish".
20. How do you feel about answering questions like these?
I feel as excited about these questions as when someone ask about my favourite color or my favourite vegetable, but I trust they have a good reason.
Watch the Talk with Y Tsai